Network:

Prime Video

Series Premiere Date:

Dec 21, 2018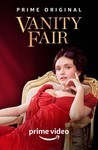 until day of season premiere
Summary:

Gwyneth Hughes' adaptation of the classic novel by Thackeray William Makepeace follows Becky Sharp (Olivia Cooke) as she makes her way from her pennilessness status to the court of King George IV.

Genre(s):

Comedy

,

Drama

,

Movie/Mini-Series
Show Type:

Mini-Series

Season 1 premiere date:

Dec 21, 2018

Episode Length:

60
Olivia Cooke vibrantly inhabits what little soul the ruthlessly opportunistic Becky Sharp possesses in this irreverent seven-part adaptation of the Thackeray classic. [10 - 23 Dec 2018, p.9]

Much of the show is a conscious bowdlerization of the epic Thackeray novel. What is lost in the wry and fat prose, the skewering of petty gnat-sized gentry, is regained in the lean performances of the perpetually suffering actors, especially Cooke's Becky Sharp.

It's neither terrible nor amazing, but at the very least, it's efficient.