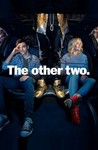 until day of season premiere
Summary:

The comedy from former SNL writers Chris Kelly and Sarah Schneider where a 29-year-old aspiring actor (Drew Tarver) and his 30-year-old sister (Heléne York) deal with finding themselves and feeling envy as their 12-year-old brother (Case Walker) becomes an instant internet star.

Genre(s):

Comedy
Season 1 premiere date:

Jan 24, 2019

Episode Length:

30
The Other ensemble is across-the-board excellent. ... With its blend of biting showbiz commentary and earned emotional moments, The Other Two is a goofy gem, a modern-day fable about the healing power of other people's fame.

The comedy is smart about its focus and targets. ... Comedy Central's new show keeps itself timely by not relying on clichés to sell the absurdity of the situation. Instead, it relies on the wit of its writers to prove why this show, out of all shows, can handle it.

No reservations, just a ringing endorsement for Comedy Central's The Other Two, a smart half-hour comedy.