Network:

Netflix

Series Premiere Date:

Aug 28, 2015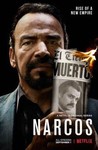 Summary:

With Escobar gone, DEA agent Javier Peña (Pedro Pascal) focuses on the Cali Cartel led by Gilberto Rodriguez Orejuela (Damian Alcazar), his brother Miguel Rodriguez Orejuela (Francisco Denis), hitman Pacho Herrera (Alberto Ammann) and New York-based Chepe Santacruz Londono (Pepe Rapazote).

Genre(s):

Drama
Season 3 premiere date:

Sep 1, 2017

Episode Length:

60
Please enter your birth date to watch this video:
You are not allowed to view this material at this time.
There's no artificial cliffhanger to mull over. As the final credits roll, you're left to sit back in slack-jawed wonderment at a self-contained story of the highest order. ... Season 3 is one of the best seasons of television.

A series that seeks to offer a unique perspective into an era many may not know about, a series grounded in enough humanity to elevate what might otherwise be easily stereotyped storytelling.

Narcos uses the downfall of the Cali syndicate in the late 1990s to rectify some of the first and second season's more significant flaws while indulging in other over-the-top tendencies that make it a mainstay of the gangster drama genre. ... Pascal grants Javier a tangible earnestness and common grit Holbrook's cowboy lacks, immediately making him a more captivating guide.

If that seemed like bravado at the time, the third season of Narcos has demonstrated that it's capable of reloading, recasting and, dramatically speaking, delivering the same high.

Thankfully, those voice-overs seem fewer this season, the better to concentrate on the show's action, which is frequently startling and absorbing.

The elements that made Narcos so compelling in its first two seasons are all here: the familiar opening credits and music, lush cinematography and plenty of suspense as we get to know some of the new characters. Pascal stays true to form as the laconic Javy.

Though well-done and watchable, season three of Narcos doesn't really distinguish itself from a number of other drug-crime stories without Escobar.
Drama at its best
Series 3 beats the first two hands down.
I binge watched the show utterly riveted by the storyline and could hardly lookDrama at its best
Series 3 beats the first two hands down.
I binge watched the show utterly riveted by the storyline and could hardly look when Matias Varela as Jorge Salcedo was caught out and nearly killed.
Though so many performances were top quality Jorge for me was the star of the show i was rooting for him throughout his humanity was his greatest asset in comparison with the inhumanity of the drug lords.
Bring on Mexico for series 4

…

Expand

Just watch it. Its the best thing on TV currently and somehow tops its previous 2 seasons. Game of thrones has nothing on this

Just watch it. Its the best thing on TV currently and somehow tops its previous 2 seasons. Game of thrones has nothing on this show!!!!!!!!!!!!!!!!!!!!!

…

Expand

what a great season
i tought it would be better that series ended in two seasons but i changed my mind after i watched this season
i lovedwhat a great season
i tought it would be better that series ended in two seasons but i changed my mind after i watched this season
i loved first season but i think season 3 is the best season: great characters with such great acting, good plot with a rapturous events.
i hardly breath during the last episodes of this season, i think its just great.

cant wait for season 4

…

Expand

Esta temporada ¡sí!, por fin la serie hace honor a su gran repercusión. Mucho mas ritmo, menos relleno y frescura que me hace sospechar que

Esta temporada ¡sí!, por fin la serie hace honor a su gran repercusión. Mucho mas ritmo, menos relleno y frescura que me hace sospechar que quizá Escobar era el gran lastre de la serie (sí he dicho eso). Los personajes de la tercera son mucho más interesantes como la pareja de detectives de la DEA, Salcedo, para mi gusto, Santa Cruz el narco de NY... Etc. Hay dos o tres giros de guión durante de la temporada en lo que cuando lo estás viendo no sabes como va a acabar eso, cosa que era impensable en las dos primeras. y la recta final de la temporada, como la preparan, como la desarrollan y como la resuelven está muy bien, siendo de una calidad mayor claramente a las dos anteriores. En resumen muy buena temporada de Narcos que demuestra como no hace falta más de una temporada para resolver un caso, en comparación a la "época Escobar".

…

Expand

Stitching a thrilling ensemble to supplant Wagner Moura's awards-worthy performance as Pablo Escobar, Narcos enjoys an unexpected renaissance

Stitching a thrilling ensemble to supplant Wagner Moura's awards-worthy performance as Pablo Escobar, Narcos enjoys an unexpected renaissance in its third season thanks to a compelling narrative, and rich character development.

…

Expand

The thrilling new season manages to stay in its vein, even without Pablo Escobar. The action-packed episodes, which were the core of the show

The thrilling new season manages to stay in its vein, even without Pablo Escobar. The action-packed episodes, which were the core of the show are still there, compelling and suspenseful. On the other hand, the show still relies on narration and montages as a way of introducing characters and telling the story to the viewer.

…

Expand

They f*** it up. It was absolutely perfect for 2 seasons, but the 3rd season in, we have the following happening:
prolonged scenes withThey f*** it up. It was absolutely perfect for 2 seasons, but the 3rd season in, we have the following happening:
prolonged scenes with forced suspense; annoying actors; characters which are hard to care for (the supposed protagonists also feel forced); story telling is more random; overall scenery cheapness and bad acting all over the place.
Even the quality of narrative speech is down - too much reverberation in the voice.
It's safe to say that the high standard to which the first two seasons were made, is no longer here. One more example of how natural corporation-policy degradation happens for any well established product, at some point in time. For these, once cult series, this point starts to get really obvious about after 3 episodes of season 3.
Definitely watchable but average at best.

…

Expand