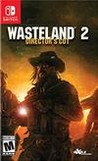 Summary:

From the Producer of the original Fallout comes Wasteland 2, the sequel to the first-ever post-apocalyptic computer RPG.

The Wasteland's hellish landscape is waiting for you to make your mark... or die trying. With over 80 hours of gameplay, you will deck out your Desert Ranger squad withFrom the Producer of the original Fallout comes Wasteland 2, the sequel to the first-ever post-apocalyptic computer RPG.

The Wasteland's hellish landscape is waiting for you to make your mark... or die trying. With over 80 hours of gameplay, you will deck out your Desert Ranger squad with the most devastating weaponry this side of the fallout zone, test the limits of your strategy skills, and bring justice to the wasteland.

Features:
- One Size Does Not Fit All: Don't feel like finding the key for a door? Pick the lock, bash it down with your boot, or just blow it open!
- Decision Making... with Consequences: With both short and long term reactivity, your choices ripple outwards, changing the game's events and forever altering the lives of those in the wasteland.
- Huge & Customizable: Hundreds of characters. Thousands of variations on your Rangers' appearance. Over 150 weapons. No two players will have the same experience.

…

Expand
Developer:

InXile Entertainment

Genre(s):

Role-Playing

,

Western-Style

# of players:

No Online Multiplayer

Cheats:

On GameFAQs

Rating:

M
Wasteland 2 is full of player choice and replayability that will keep players busy for a while. With gameplay easily exceeding 80 hours of content, Wasteland 2 is not for the faint of heart. Those who appreciate challenging experiences and detailed world-building will find Wasteland 2: Director's Cut an important installment in their RPG library.

Wasteland 2 is a slam-dunk in almost every way for lovers of immersive RPGs with a nostalgic, old-school feel. In the hours and hours I logged before writing this review, I felt that I barely skimmed the surface of what this massive game has to offer. Aside from the bugs and the inability to reconfigure controls, it plays well on the Switch and doesn't lose much in its adaptation to the small screen.

The best way to experience Wasteland 2 is undoubtedly on PC, but if that's not an option the Switch version is an acceptable, though compromised solution. A healthy amount of patience and a reasonable amount of stress toleration will be needed but ultimately it will be worth it.

If you enjoy the likes of Divinity: Original Sin and adore the idea of that sort of game in a post-apocalyptic world, then this one's for you. It's loaded with content, has a ton of replay value, and unlike many modern RPGs, it really lets you customize your entire experience.

Despite a bevy of performance issues on the Switch, Wasteland 2 continues to be an excellent RPG with its terrific writing and world building.

When it comes to SRPGs, Wasteland 2: Director's Cut offers a rewarding survival-based campaign that'll delight hardcore fans of the genre. However, a few nagging issues bog down this otherwise fantastic experience.

Unfortunately, the game comes off as disappointingly beholden to classic computer RPG style despite being a modern creation, and the world feels dry and dull. I can't imagine many players who aren't already familiar with the license finding much enjoyment here. But worst of all? This particular version is a terrible port that's nearly unplayable in some areas, and serves as a good example that not every game belongs on the Switch.
I really enjoyed this game, it is quite similar to Fallout & Fallout 2, and i loved those, the game itself is fun, the story was fine, and

I really enjoyed this game, it is quite similar to Fallout & Fallout 2, and i loved those, the game itself is fun, the story was fine, and choices you made had an actual impact on the world.
Now, the game on the Switch runs poorly to be honest, and also crashes quite often, i had around 4 crashes in 30 hours of playing, and for some reason, the game started to stutter in some places, even though before, in the same places, it didn't.
Good game, mediocre port.

…

Expand

Great game but super bad port. Interface is not optimized for small screen, control is a bit clanky, especially camera, but manageable.

Great game but super bad port. Interface is not optimized for small screen, control is a bit clanky, especially camera, but manageable. Optimization is pretty poor too. The worst things are crashes. Prepare to have a LOT of crashes. Very disappointing, how such great game can be ruined by this bad port.

…

Expand