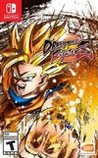 Summary:

After the success of the Xenoverse series, its time to introduce a new classic 2D DRAGON BALL fighting game for this generations consoles. DRAGON BALL FighterZ is born from what makes the DRAGON BALL series so loved and famous: endless spectacular fights with its allpowerful fighters.

After the success of the Xenoverse series, its time to introduce a new classic 2D DRAGON BALL fighting game for this generations consoles. DRAGON BALL FighterZ is born from what makes the DRAGON BALL series so loved and famous: endless spectacular fights with its allpowerful fighters. Partnering with Arc System Works, DRAGON BALL FighterZ maximizes high end Anime graphics and brings easy to learn but difficult to master fighting gameplay to audiences worldwide.
Key Features:

* 3vs3 TAG/SUPPORT
Allows players to train and master more than one fighter/style which brings deeper gameplay

* HIGH-END ANIME GRAPHICS
Using the power of the Unreal engine and the talented team at Arc System Works, DRAGON BALL FighterZ is a visual tour-de-force
* SPECTACULAR FIGHTS
Experience aerial combos, destructible stages, famous scenes from the DRAGON BALL anime reproduced in 60FPS and 1080p resolution (Higher resolution will be supported on PS4 Pro and Xbox Scorpio)

…

Expand
Developer:

Arc System Works

Genre(s):

Action

,

Fighting

,

2D

# of players:

Up to 6

Cheats:

On GameFAQs

Rating:

T
Please enter your birth date to watch this video:
You are not allowed to view this material at this time.
Dragon Ball FighterZ - Vegeta DLC Character Trailer
Dragon Ball FighterZ is fantastically animated and one of the more interesting fighting games that I've ever come across. It's an epic game to play by yourself or head-to-head with some friends.

A surprising example of the technical capabilities of the Switch. It's almost identical to the previous versions, which means lots of great fighting moments, saiyan style.

FighterZ is complex and distinct enough to be enjoyed by fighting game competitors, but there's no question that it's been designed to tap into the hearts of Dragon Ball's most dedicated fans, and no doubt those same qualities will win people over who've never given the series a chance.

Dragon Ball FighterZ on the Switch is, simply put, the best fighting game we've seen on the system yet. Arc System Works went the extra mile in capturing the essence of the source material and distilled it into an incredible brawler that has lost nothing in the transition to Nintendo's hybrid console. The stunning visuals, intense action and easy-to-master controls make FighterZ a game all fans of the genre should have in their library. If you only play this kind of game casually, it remains a must-own.

Dragon Ball FighterZ is both an excellent fighter and an amazing Dragon Ball game. It's easy to pick up, but hard to master. The port to Nintendo Switch has been highly successful and it's great that anyone can now play this game on the go.

In general, the Nintendo Switch version of Dragon Ball FighterZ comes very, very polished and offers everything that PS4 and Xbox One players could enjoy before. It is a pity that we had to wait 8 months to try it and we missed that it had arrived with some exclusive extras to alleviate this delay.

If you're a Switch owner, you probably put a pretty hefty premium on portability. And honestly, the game's performance is otherwise exemplary. For me, the load times and the game's performance make this a good experience in short doses. If you want epic, fast-paced combat in a portable package, definitely give Dragon Ball FighterZ a chance.
A great 2D fighting game. Fantastic visuals and addictive gameplay. The Switch port is an outstanding result which is almost identical to the

A great 2D fighting game. Fantastic visuals and addictive gameplay. The Switch port is an outstanding result which is almost identical to the other versions.

…

Expand

Picked this gem up a week ago. Spectacular game! Many abilities to learn and master with each character. Reminds be of Final Bout and Ultimate

Picked this gem up a week ago. Spectacular game! Many abilities to learn and master with each character. Reminds be of Final Bout and Ultimate Battle 22 two decades ago for the PS1. Artwork and graphics are also unique and designed from scratch, unlike many seemingly copy and paste Dragon Ball games, This game shines brightly and will be a challenge for me for years to come!

…

Expand

An incredible masterpiece. The best game of the Dragon Ball franchise, and one of the best fighting games ever. Adittionaly, this port is

An incredible masterpiece. The best game of the Dragon Ball franchise, and one of the best fighting games ever. Adittionaly, this port is perfect.

Simply stunning!

…

Expand

Game runs amazingly smooth. Occasional slow downs when walking around the hub city and slightly longer loading times compared to PS4 or PC,

Game runs amazingly smooth. Occasional slow downs when walking around the hub city and slightly longer loading times compared to PS4 or PC, but the combat is a smooth 60 fps. Perfect way to take DBFZ on the road.

…

Expand

ya lo tenia para PS4 pero la razón por la que hago este review es por que la calidad de este port es perfecta. corre de una manera hermosa el

ya lo tenia para PS4 pero la razón por la que hago este review es por que la calidad de este port es perfecta. corre de una manera hermosa el juego y siendo honesto no le veo mucha diferencia en cuanto a calidad con sus otras versiones. la ventaja de esta versión a las otras como siempre lo diré es la portabilidad de la consola. siempre he dicho que la switch es la consola perfecta para juegos de peleas por que puede llevartela y jugar con tus amigos en cualquier rato una reta de SF o en este caso Fighterz. el online he jugado muy poco pero en lo general si mi rival tiene buena conexión el juego corre muy bien. hasta el momento solo tuve una pelea llena de lag de las 10 que he jugado.

…

Expand

My first Dragon Ball game and certainly it will not be the last. I liked this game very much so that I started reading the manga. It is one of

My first Dragon Ball game and certainly it will not be the last. I liked this game very much so that I started reading the manga. It is one of the best games to play in the handheld mode. Simple but deep fighting mechanics, funny characters, beautiful graphics and not bad story mode...

…

Expand