| SteamWorld Quest: Hand of Gilgamech | BoxBoy! + BoxGirl! | Nintendo Labo: Toycon 04 VR Kit |
| --- | --- | --- |
| | | |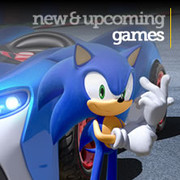 Find release dates, trailers, and scores for major upcoming and recent videogame releases for all platforms, updated weekly.
1.

Nuclear Throne

Release Date:

March 20, 2019

The idea behind Vlambeer's Nuclear Throne is simple: it's a post-apocalyptic roguelike-like top-down shooter. Not 'the final hope of humanity' post-apocalyptic, but 'humanity is extinct and weird mutants and terrifying monsters now roam the world' post-apocalyptic. All you need to do is take control of one of those mutants and shoot the things trying to kill you. Use simple weaponry like quintuple-barreled bazookas, super plasma cannons or exquisite cursed laser miniguns. Or the game might just hand you a screwdriver. Deal with it. Mutate some new limbs and abilities as you go, and become the ultimate Throne hunter. Find secret vaults with game-changing crowns, discover rare overpowered weaponry, or compete in the worldwide Daily and Weekly challenges. All these things and more you could do if only you were good at this game. Can you reach the Nuclear Throne?

2.

Blaster Master Zero II

Release Date:

March 20, 2019

3.

Assault Android Cactus+

Release Date:

March 8, 2019

Experience an arcade style twin stick shooter set in a vivid sci fi universe. Junior Constable Cactus is outside her pay grade when she responds to a distress call and ends up stranded on a crippled space freighter under attack by its own robot workers. With a draining battery mechanic instead of lives, Assault Android Cactus+ challenges you to think fast and shoot faster. Charge head first into an army of refitted robots, transforming stages and massive boss showdowns.

4.

Trine 2: Complete Story

Release Date:

February 18, 2019

Trine 2: Complete Story is a beautiful, award-winning sidescrolling game of action, puzzles and platforming. Play as the three Heroes - Amadeus the Wizard, Pontius the Knight, and Zoya the Thief - and join their adventure through dangers untold in a fantastical fairytale world, including physics-based puzzles using fire, water, gravity and magic; wicked goblins and their evil plan; and a magical environment full of wonder. Features: -20 levels chock-full of adventure, hazards, physics-based puzzles, dangerous enemies and curious contraptions -Travel through breathtaking environments, including a mushroom forest, a burning desert and snowy ice mountains -3 Heroes: Amadeus the Wizard, Pontius the Knight and Zoya the Thief, each with their own set of skills - and personalities charming and otherwise -Online and local co-op multiplayer for up to three players -Beautiful graphics with a smooth framerate (Full HD 1080p / 60 fps) -Supports Stereo 3D -Supports DUALSHOCK4 touch pad

5.

Cuphead

Release Date:

April 18, 2019

Cuphead is a classic run and gun action game heavily focused on boss battles. Inspired by cartoons of the 1930s, the visuals and audio are painstakingly created with the same techniques of the era, i.e. traditional hand drawn cel animation, watercolor backgrounds, and original jazz recordings. Play as Cuphead or Mugman (in single player or local co-op) as you traverse strange worlds, acquire new weapons, learn powerful super moves, and discover hidden secrets while you try and pay your debt back to the devil!

6.

Downwell

Release Date:

January 31, 2019

Downwell is a curious game about a young person venturing down a well in search of untold treasures with only his Gunboots for protection. Make your way further and further down into the darkness filled with nasty creatures and mysterious secrets to collect the spectacular red gems scattered about the rocks. Step into precariously placed shops and buy some helpful items or level up between levels to battle well-dwelling monsters and uncover hidden caves filled with riches and relics. No two trips down the well are ever the same.

7.

BlazBlue: Central Fiction - Special Edition

Release Date:

February 7, 2019

BlazBlue: Central Fiction is the newest installment in the storied BlazBlue franchise and stands alone as the pinnacle of next gen 2D fighters! Like a well-timed 2D punch, BlazBlue: Central Fiction bashes massive amounts of content and innovation into one slick title that hits hard and keeps the pummeling steady! Prepare yourself for a brand new story, new characters, levels, modes, system mechanics and more! Choose from over 33 unimaginable fighters as you battle for 2D supremacy!

8.

Final Fantasy X / X-2 HD Remaster

Release Date:

April 16, 2019

Two of the Most Celebrated RPGs of their Generation - Now in Beautiful High Definition! Over 200 hours of gameplay, including the International version content never before released in North America. Relive the fateful journey with fully remastered HD visuals and rearranged music.

9.

Steins;Gate Elite

Release Date:

February 19, 2019

Follow a group of young, tech-savvy "lab members" who discover the means of changing the past via e-mail using a modified microwave. Their experiments in pushing the boundaries of time begin to spiral out of control as they become entangled in a conspiracy surrounding SERN, the organization behind the Large Hadron Collider, and John Titor, who claims to be from a dystopian future.

10.

Katana ZERO

Release Date:

April 18, 2019

Katana ZERO is a stylish neo-noir, action-platformer featuring breakneck action and instant-death combat. Slash, dash, and manipulate time to unravel your past in a beautifully brutal acrobatic display.