| Mario & Luigi: Bowser's Inside Story + Bowser Jr.'s Journey | Etrian Odyssey Nexus | Kirby's Extra Epic Yarn |
| --- | --- | --- |
| | | |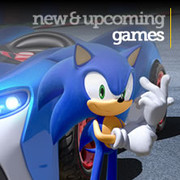 Find release dates, trailers, and scores for major upcoming and recent videogame releases for all platforms, updated weekly.
1.

Etrian Odyssey Nexus

Release Date:

February 5, 2019

A royal decree from Princess Persephone has prompted the gathering of the realm's greatest explorers to the floating city of Maginia. Their goal - uncovering the mysteries of the archipelago of Lemuria, home to a great Yggdrasil Tree. Recruit explorers from 19 classes spanning the entire Etrian series, including the brand new "Hero" class, before setting out to Lemuria in search of treasure and glory!

2.

Yo-kai Watch 3

Release Date:

February 8, 2019

Mischievous beings known as Yo-kai are everywhere, and it's up to Nate and Hailey Anne to befriend, battle, and solve problems with them. Follow two parallel stories and unravel the mysteries behind strange sightings while meeting over 600 Yo-kai and using the new 3x3 grid battle system to strategically dish out or dodge attacks. More Yo-kai, more mysteries! 'Merican Yo-kai have made their way to YO-KAI WATCH 3 and they're rootin' tootin' troublemakers. Speaking of troublemakers, in BBQ, zombies rise from their graves and Nate must free the town during Zombie Night. If you're too afraid of zombies, you can always find treasure by exploring randomly generated dungeons and discover the truth about the mysterious ruins hidden all across the continent with the Yo-kai Blasters T group. * Meet Hailey Anne and Usapyon as they solve cases as Yo-kai detectives in Springdale * Explore the American-inspired location, BBQ, where 'Merican Yo-kai run rampant * Battle all-new bosses, meet over 600 Yo-kai, and use a new 3x3 grid battle system to strategically dish out attacks * In BBQ, go on a rafting adventure, try out a new Crank-a-kai, and interact with new 'Merican Yo-kai * Train up your very own Nyan, a cat like Yo-kai, in Build-a-Nyan * Bonk zombies on the head, in an all-new mode, Zombie Nightit's an invasion! * Link with versions of YO-KAI WATCH 2 and YO-KAI WATCH BLASTERS to earn special Yo-kai * Discover treasure as part of the Yo-kai Blasters T group and make your way through randomly generated dungeons

3.

Kirby's Extra Epic Yarn

Release Date:

March 8, 2019

Kirby can transform into knitted wonders like tanks and flying saucers. Plus, his new ravel abilities mimic his classic copy abilities, adding something new to every stage of this action-adventure game. Ravel abilities allow Kirby to drop buttons like bombs or wield a wire like a sword. And that's just the beginning of all the makeshift magic. Dead end? Unzip a secret passage. Too dark? Unbutton the night to shed some light. Boss blocking your way? Unravel its face! As you play, you'll collect decorative treasures for Kirby's Pad. Show yours off with the StreetPassTM feature. If story mode isn't tough enough, see if you can earn more collectibles in Devilish Mode. In this harder mode, you must survive without invincibility as devils obstruct your path through each stage. There are also all-new minigames starring Meta Knight and King Dedede.