Network:

Lifetime

Series Premiere Date:

Sep 9, 2018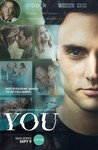 Summary:

Bookstore manager Joe Goldberg (Penn Badgley) becomes obsessed with an aspiring writer (Elizabeth Lail) in this psychological thriller based on the Caroline Kepnes novel of the same name.

Genre(s):

Drama

,

Suspense
Season 1 premiere date:

Sep 9, 2018

Episode Length:

60
Invoking the best qualities of David Fincher's "Gone Girl" and Mary Harron's adaptation of "American Psycho." ... While we're thoroughly embedded in Joe's point of view from the beginning, the writing and Badgley's performance do just enough to ensure that it's not a comfortable experience, even as we get to know him more and more.

Scary and soapy and funny and tense, YOU is a lot like social media itself: perhaps not the most edifying way to spend your time, but very, very hard to quit.

Creepy, addictive and full of dry humor about social media, millennials and dating in the age of Tinder.

The series' biggest weakness: Often it takes the safest, most predictable option in crafting its narrative, sometimes veering into the cliche. But You is still reasonably captivating, right from its demented beginning, and cliffhanger endings make it an ideal binge-watch. The series really hits its stride in Episode 4.

It's been a while since basic cable has delivered a guilty pleasure as enticing and entertaining as Lifetime's stalker drama You.

Joe's warped wit, honed by Badgley's sensitive-guy panache, sets You apart from Lifetime's woman-in-peril formula. [17-30 Sep 2018, p.25]

The narrative bulk of the series is relayed through Joe's internal monologues (another stalker trope) but I will says this: the series, while at turns cheesy and predictable, is also watchable.
great pilot, the series has a very interesting point that is the vision of Joe which leaves the series much more intense´, Penn Badgley plays

great pilot, the series has a very interesting point that is the vision of Joe which leaves the series much more intense´, Penn Badgley plays a majestic role in this show, the photograph is a bit melancholy as the life of the Badgley character which leaves more sadisfatoria accompany you.

…

Expand

This review contains spoilers

, click expand to view

.

I didn't know what this was, so after a bit of a boring start the atmosphere started to pull me in. At first the main character seems so normal. And even after all the stalking I still found him relatable. They could have waited a bit longer with the violence, but I understand they need the audience to tune in next week. I will watch again even though I'm worried it will try to be the new Dexter.

…

Expand