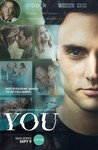 Summary:

Bookstore manager Joe Goldberg (Penn Badgley) becomes obsessed with an aspiring writer (Elizabeth Lail) in this psychological thriller based on the Caroline Kepnes novel of the same name.

Genre(s):

Drama

,

Suspense
Season 1 premiere date:

Sep 9, 2018

Episode Length:

60
Invoking the best qualities of David Fincher's "Gone Girl" and Mary Harron's adaptation of "American Psycho." ... While we're thoroughly embedded in Joe's point of view from the beginning, the writing and Badgley's performance do just enough to ensure that it's not a comfortable experience, even as we get to know him more and more.

You is a vicious thrill; smart and mean in all the right ways, with a devilish sensibility and a clever, inviting pessimism, like the friend who wants you to sit in the back with her and make jokes.

A comedy-thriller with a serrated edge, You is a scary, delicious snack of a show, a bit like "Dexter" crossed with "Younger."

It's been a while since basic cable has delivered a guilty pleasure as enticing and entertaining as Lifetime's stalker drama You.

Joe's warped wit, honed by Badgley's sensitive-guy panache, sets You apart from Lifetime's woman-in-peril formula. [17-30 Sep 2018, p.25]

An extremely watchable stalker drama. ... The breathless pacing of You is what could well make it a juicy guilty pleasure for many viewers, but it falls short of the kind of thoughtfulness that could have made it special.

The narrative bulk of the series is relayed through Joe's internal monologues (another stalker trope) but I will says this: the series, while at turns cheesy and predictable, is also watchable.
great pilot, the series has a very interesting point that is the vision of Joe which leaves the series much more intense´, Penn Badgley plays

great pilot, the series has a very interesting point that is the vision of Joe which leaves the series much more intense´, Penn Badgley plays a majestic role in this show, the photograph is a bit melancholy as the life of the Badgley character which leaves more sadisfatoria accompany you.

…

Expand

Enjoyed it. Sorta mixture of Bates Motel and Dexter. Penn Badgley did an amazing job in bringing the character to life.

just finished. My thoughts? The trailer's a lil bit misleading,just sayin'. Horrorfic? Nah,no spooky entity lurking around under lights..so no

just finished. My thoughts? The trailer's a lil bit misleading,just sayin'. Horrorfic? Nah,no spooky entity lurking around under lights..so no worries. For the faint-hearted? Not so recommended. Kudos for the element of surprise towards the end though. And yes, season 2 is in the works.

…

Expand

It's good to where it's average, but YOU doesn't bring anything new to the table. From what was seen in the last two decades, I can assure

It's good to where it's average, but YOU doesn't bring anything new to the table. From what was seen in the last two decades, I can assure that it doesn't in anyway stand out much.

…

Expand

Good for wasting time with something that won't feel to 'heavy', maybe if you're in between 'heavy' shows. Otherwise skip it - you won't be

Good for wasting time with something that won't feel to 'heavy', maybe if you're in between 'heavy' shows. Otherwise skip it - you won't be missing anything. It's like an almost decent imitation of Dexter. Almost.

…

Expand

Starts out promisingly but quickly descends into an absurd mess. This is not a stalker thriller. It might seem like one in the first few

Starts out promisingly but quickly descends into an absurd mess. This is not a stalker thriller. It might seem like one in the first few episodes, but then it becomes an addiction drama while also trying to be a soap and then a rom-com all the while offering nothing to help the viewer understand Penn Badgley's Joe, a completely baffling character.

…

Expand

This review contains spoilers

, click expand to view

. The tension this show creates from the get go is certainly there. There's nothing especially unique about the plot, aside from Joe's reliance on public data obtained from Google; if Beck minded her privacy settings, the pilot would have ended 10 minutes in. This show asks for too much from it's viewers, especially past the first episode. I'm unable to get past the fact that Joe is entirely unlikeable, and it's not because he's a murdering psychopath. The plot holes are what does this show in. The decomposed hipster in the vault downstairs would have cleared out the whole building. The cops would have undoubtedly smelled Benji's fetid corpse, and if, by miracle, they didn't, they wouldn't let go of the fact he gave a child money to by all kinds of supplies that'd put you on a no fly list. Then there was the disposal of the body in a bonfire near a hiking trail! It was all down hill from there.

Benji was right about Beck, the alcoholic sleeping with Paco's Mom was right about Joe, and Beck is struggling to find a place among her in peers that I wouldn't even want to be in the same room with. If Joe could have just memorized a pick-up line from Reddit he could have got in so much quicker. It gets a 4 because I laughed occasionally, they didn't kill Paco, and the paint job on the Skylark was perfection.

…

Expand