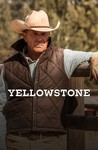 Summary:

John Dutton (Kevin Costner) and his family deal with numerous issues involved with owning the largest ranch in the US including politicians, land/oil developers, an Indian reservation, and its neighbor, Yellowstone Park.

Genre(s):

Drama
Season 1 premiere date:

Jun 20, 2018

Episode Length:

60
The two-hour "Yellowstone" pilot is both talky and somewhat predictable as it establishes the characters, their relationships and conflicts. But future episodes offer more surprises and deepen the characters--flashbacks help establish why Beth is the way she is--making "Yellowstone" an enticing summer diversion.

Though "Yellowstone," at least in the early going, has its flaws--please make scenes of people having sex standing up against a wall go away forever--it's a solid piece of work.

Yellowstone's weaknesses is its failure to teach viewers why (or why not) we should root for his independence; his Western entitlement alone won't cut it, and the character Costner plays is unfortunately averse to explanatory monologues. ... Sheridan mostly resists the temptation to turn the series into a soap opera, relying on his knowledge of what today's West actually looks and feels like, which gives the series its authentic air. The Montana and Utah locations help, too, supplying plenty of high-def beauty.

There are larger-than-life characters and then there are impossible-to-believe roles, and "Yellowstone" runs deep with the latter. ... There's a much easier way of summing up "Yellowstone": Horsepucky.

So much of Yellowstone seems needlessly morbid and painfully paced.

A big, sprawling mess ... Yellowstone tries to be so expansive and soap-operatic that there's barely any realism in it.
Love the aspects such as profanity, sex, nudity. Closet dwellers, ostriches, and hypocrites of course will balk at it because they still

Love the aspects such as profanity, sex, nudity. Closet dwellers, ostriches, and hypocrites of course will balk at it because they still believe it should be 1950's TV. We live in this world, not denial world. Great theme, very entertaining.

…

Expand

This review contains spoilers

, click expand to view

. Yellowstone is a TV western featuring the timeless battle between cowboys and indians. Only this time, the battle takes place in present day and the indians win the day more often than not with the help of a casino.

This is a joy to watch. The writing is crisp, the acting spot on, and the characters have a story to tell. When the patriarch of the Dutton family, played by Kevin Costner, does something particularly evil, it seems like he's doing it because he's trying to preserve a way of life. And when his youngest son, Kacey, shoots his brother-in-law (spoiler), we see his father, even though the son seeks distance from John Dutton.

Yellowstone could end up seemingly melodramatic. However, I think it pulls back just enough to make it less of a soap opera. It feels more of an authentic telling of a family struggling to fit in even if they have been controlling Montana for five generations. Maybe its a Western thing; the cowboy always struggles.

…

Expand

Very much enjoyed it so far. Haven't been this entertained in a long time. Give it a shot and see for yourself.

The best comparison for Yellowstone is that it is the Western version of Succession. The focus is on a rich, not very likable, family who does

The best comparison for Yellowstone is that it is the Western version of Succession. The focus is on a rich, not very likable, family who does a lot of bad things and has a lot of drama. We see how different each member of the family is and why they are all fairly hostile towards each other despite being a family. This is a slow burn family drama that has some action mixed in, and at times it almost steps into soap opera territory. It can be boring at times, and it can very well be unbelievable at times. Taylor Sheridan's need to kill someone off in nearly every episode becomes a little predictable and honestly a little disappointing. Someone doesn't have to die every episode for the audience to stay interested. I was expecting a project under Taylor's full control to focus heavily on character development and the emotional side of things, but he barely dips below surface level with many of his characters. The story of the show also starts to lose steam after the first four episodes, which were pretty good, as it starts to stretch storylines to fit the runtime. However, the selection of Western shows on TV is not very deep right now, and this does fill that void for me. It has lots of issues, but is still an entertaining show, and I plan on watching season 2.

…

Expand

Typical gratuitous profanity laced bore lacking in story craft, but that's what's delivered from narrative challenged immature "talent"

Typical gratuitous profanity laced bore lacking in story craft, but that's what's delivered from narrative challenged immature "talent" produced and financed by today's studio stooges.

…

Expand

Typical Costner fashion this is drawn out and boring. Could be a good series if it moves along quicker.
i like the landTypical Costner fashion this is drawn out and boring. Could be a good series if it moves along quicker.
i like the land owner/developer/Indian battle, but I'm worried about the Costner curse. And how come no one ever addresses the change in Costner's voice. A lot of the time you can't even understand what he is saying, did he have cancer? vocal cord damage?

…

Expand

Pretty much disappointed,i mainly only watched 1st episode to see Buck Taylor,Rudy Ramos and Ian Bowen, and to see what it is about and i love

Pretty much disappointed,i mainly only watched 1st episode to see Buck Taylor,Rudy Ramos and Ian Bowen, and to see what it is about and i love those 3 actors above and wish they were in more movies,i like Kevin Costner,but not near as much as the 3 i mentioned above,so i am sad Buck and Rudy are only in 1st episode,but i went ahead and watched 2nd episode..because Ian Bowen was suppose to be in it and i have yet to see him,i did not even see him in 1st episode,i loved him on Teen wolf and was excited to see him in a western,is he not really on here,i suffered thru the 2nd episode waiting to see him,because i am actually very bored with the Yellowstone series,so far,especially since there will be no more Rudy Ramos and Buck Taylor

…

Expand