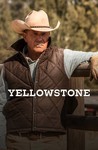 until day of season premiere
Summary:

John Dutton (Kevin Costner) and his family deal with numerous issues involved with owning the largest ranch in the US including politicians, land/oil developers, an Indian reservation, and its neighbor, Yellowstone Park.

Genre(s):

Drama
Season 1 premiere date:

Jun 20, 2018

Episode Length:

60
This series is a visual feast, with stunning mountains, lovely vistas and spectacular camera work. "Yellowstone" will make the Montana Office of Tourism proud. .... While John Dutton is a bit of a mystery, I'm invested enough to see how the character and "Yellowstone" develop.

The two-hour "Yellowstone" pilot is both talky and somewhat predictable as it establishes the characters, their relationships and conflicts. But future episodes offer more surprises and deepen the characters--flashbacks help establish why Beth is the way she is--making "Yellowstone" an enticing summer diversion.

Watching a man, even a man who looks terrific on a horse, trying to hold on to what he already has can take Yellowstone only so far. It's the son who got away who could help Dutton stay interesting, and maybe even teach him something about fatherhood.

Co-creator Taylor Sheridan has written and directed every episode I've seen so far, and when he's not indulging himself with random gunfights, he has a weakness for wannabe poeticism, letting his characters muse darkly. Everybody gets one portentous line per scene.

The clashes between the indigenous population and the Duttons--personified by Kayce, a man more at home with horses than either the white family of his birth or the American Indian one into which he married--are fascinating stuff. Less so are brother-on-brother rivalries that feel drawn from a show with less ambition. Yellowstone is stunningly shot, and yet beneath its mountain vistas lies nothing new, just more squabbling.

Yellowstone's weaknesses is its failure to teach viewers why (or why not) we should root for his independence; his Western entitlement alone won't cut it, and the character Costner plays is unfortunately averse to explanatory monologues. ... Sheridan mostly resists the temptation to turn the series into a soap opera, relying on his knowledge of what today's West actually looks and feels like, which gives the series its authentic air. The Montana and Utah locations help, too, supplying plenty of high-def beauty.