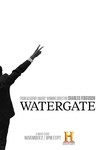 Summary:

The three-part documentary from Charles Ferguson seeks to give a comprehensive look at the conspiracy that led to the downfall of Richard Nixon features interviews with Daniel Ellsberg, Elizabeth Holtzman, the late Senator John McCain, Dan Rather, William Ruckelshaus, and Lesley Stahl.

Genre(s):

Movie/Mini-Series

,

Documentary
Show Type:

Mini-Series

Season 1 premiere date:

Nov 2, 2018

Episode Length:

120
Ferguson's narrative is so dense and complicated, and at the same time so dramatic, suspenseful and clear, that it absorbs all of your attention. ... Ferguson makes brilliant use of the archival record. He supplements galvanic television footage with lively interviews with survivors.

At first these re-creations are distracting, if not comical. Then something remarkable happens: You begin to look forward to them. Each has been staged perfectly, the words phrased clearly and concisely. They begin to reveal how Watergate did in fact happen. ... Superb, but not for the casual viewer.

The film is short on flash and long on archival material. Using news broadcasts, old photos and footage, and Nixon's own tape-recorded conversations, it provides a lucid account of the fallout from the June 17, 1972 break-in by five men at the Democratic National Committee headquarters in Washington, D.C.'s Watergate building, which culminated in Nixon's resignation on August 9, 1974.

Ferguson's film is still a rivetingly thorough account of what took down Richard Milhous Nixon, and plenty of others in his administration. ... While the naturally propulsive timeline, archival footage and talking heads provide a compelling narrative, Ferguson's use of actors to reenact the Oval Office conversations captured secretly by Nixon are an odd distraction.

A worthwhile primer for those who are unschooled in the Nixon presidency, the chaos it unleashed, and how the law eventually brought it to heel. ... The element of the film's early going that works most well is an analysis of Nixon's mentality towards Vietnam, and the ways in which his paranoid refusal to lose fueled, and was fueled by, the quagmire there. But after that, the film often defaults to revisiting well-known history.

Ferguson here introduces a new technique for him, staged re-enactments of select bits from Nixon's secret Oval Office tape recordings, with actors playing the famous participants. While there is an undeniable interest in watching these conversations unfold in all their venal and sometimes illegal intent, beholding actors playing such well-known figures while also seeing the real men themselves in clips from the time represents an impossible task even the best actors would fail to meet. ... That said, for old-timers who welcome a trip down this particularly unsavory lane of American history, as well as for news junkies, there is plenty to relish here in the first-hand accounts offered up by the couple of dozen witnesses called upon by Ferguson.

The first part of the film falls between news of the Watergate break-in and the start of the hearings, Ferguson dutifully assembling the timeline like a jigsaw puzzle of corruption. His narration is clean and efficient, his talking heads include all the major players (Dan Rather, Daniel Ellsberg, Morton Halperin, John Dean, Carl Bernstein, etc.), and his oblique nods to Trump don't stop the movie in its tracks. ... It's a shame that Ferguson tried to make it anything more than that. ... The second part of "Watergate," which focuses almost exclusively on the bombshell hearings and the string of bullshit Nixon press conferences that followed, is far more consistent.