Network:

Starz

Series Premiere Date:

May 6, 2018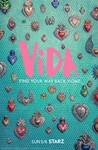 Summary:

Estranged sisters Emma (Mishel Prada) and Lyn (Melissa Barrera) return to the Eastside of Los Angeles after the death of their mother, where they must deal with the family business and discover secrets about their mother in the half-hour drama.

Genre(s):

Drama
Season 1 premiere date:

May 6, 2018

Episode Length:

30
How to honor the memory of a beloved is its theme, or one of them. You can't get much more universal than that. Fine newcomer with excellent cast, and some universal themes.

The series could go anywhere, but it's off to a good start in the first hour.

Every actor on Vida is great; Barrera's performance in particular blooms with searing clarity as Lyn is forced to face her own reckless choices. But it's Prada's Emma who becomes both the backbone and the beating heart of Vida as she grapples with her mother's truth and the painful reality of learning it too late.

Vida clips along nicely thanks to strong performances, including Chelsea Rendon's fierce and funny portrayal of guerrilla activist Marisol, and Prada's composed intensity as Emma. The momentum only starts to wane when the story turns to Lyn's romantic entanglement her neighborhood ex, Johnny (Carlos Miranda). What's interesting here are the relationships between Lyn and Emma and the other women in their lives.

Despite the hardly surprising plotting, Vida excels as a series with a notably different look and feel.

It feels authentic, save for one calculated-to-take-advantage-of-premium-cable scene in the premiere (characters on TV seem more prone to engage in grief-fueled sex at funeral receptions than people do in real life).

Alas, Saracho, whose previous credits include "How To Get Away With Murder" and Lifetime's Latina-driven "Devious Maids," doesn't offer much new or surprising about what motivates people who find themselves in such predicaments. The characters' personal basic troubles and quandaries are simply stretched out and reiterated, and rarely affectingly probed.
Character personalities are cleverly presented through background stories and on-going conflicts, although certain nudities seem unnecessary

Character personalities are cleverly presented through background stories and on-going conflicts, although certain nudities seem unnecessary at times. (Melissa Barrera is banging though!!! LIKE holy ****

…

Expand