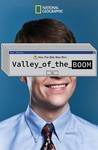 Summary:

Matthew Carnahan's six-part limited series mixes real-life documentary interviews with scripted drama to illustrate the rise and fall of three early 1990s dot-coms: Netscape, the early web browser; TheGlobe.com, an early social network; and Pixelon, a video streamer.

Genre(s):

Drama

,

Movie/Mini-Series
Show Type:

Mini-Series

Season 1 premiere date:

Jan 13, 2019

Episode Length:

60
If it sounds weird, it is, but it's exactly the right amount of bizarre to make this otherwise dense and tangled piece of modern history palatable--and hilarious.

An idea that works when it probably shouldn't and, in fact, generates a considerable amount of joy and entertainment as it moves quickly through an important and complicated retelling of not only the "browser wars" that kicked off when the internet was something people had never heard of, but also the myriad other elements at play in the period.

Each chapter's pace flows well, but there can be a herky-jerky energetic inconsistency between episodes as Carnahan throws in one diversionary gimmick after another. ... Such contrivances come at the expense of gravitas, but given the frequent opacity of the stories behind what actually happened, a viewer can't fault Carnahan too severely for doing all he could possibly do to keep the story light and limber.

With everyone playing to the camera, from actors who break the fourth wall to their real-life counterparts who sit for interviews, the result is system overload. Boom is entertaining yet can be exhausting as it is illuminating. [7-20 Jan 2019, p.11]

The documentary doesn't augment the scripted narrative so much as it doubles down to overwhelm viewers with information; to entertain at all costs, even when it means repeating facts and disconnecting the human cost from of all these technological advances.

The portion of this hybrid scripted-nonfiction show drawn from interviews with real-world tech pioneers and scenesters (among them, recognizable faces including Mark Cuban and Arianna Huffington) is light but enlightening. By contrast, the time the show spends dramatizing the stories its talking heads explain is poorly spent, spinning a relatively thin narrative into a six-episode run through repetitious and tiring use of post-modern storytelling techniques that are as tired today as a dial-up modem.

Valley of the Boom's skimming voyage across the biggest moments in Silicon Valley's late-90s scene is educational, and even a little nostalgic. But it also feels like a missed opportunity to dive deeper into what should have been learned (and wasn't) in terms of tech growth, or to explore a different prospective other than from those who happened to ride a investment wave at exactly the right time.
I thought it was rather boring, I feel the entire series could have been rapped up in one episode.