Network:

Netflix

Series Premiere Date:

Mar 6, 2015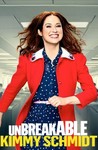 Summary:

Kimmy goes to college and learns The Reverend (Jon Hamm) is not quite out of her life as her roommate Titus and landlady Lillian (Carol Kane) deal with relationship issues in the third season of the comedy from Tina Fey and Robert Carlock.

Genre(s):

Comedy
Season 3 premiere date:

May 19, 2017

Episode Length:

30
Please enter your birth date to watch this video:
You are not allowed to view this material at this time.
Unbreakable Kimmy Schmidt
Based on six episodes for review, Kimmy remains Kimmy, which is about as good as the news can get for fans.

Through six episodes, Season 3 has shown far less reliance on the past and an invigorating interest in the future. ... We've covered a lot of her arrested development, and now it's time to see what kind of story an adult Kimmy has to tell. So far, it's a damn good one.

Its sparkly advertising and spastic, yet effective, humor belie a wit and poignancy that continues to resonate as largely peerless to this day.

Don't worry about its underlying themes too much because three seasons in, the humor in Kimmy Schmidt is still among the sharpest and brainiest on television.

Three seasons in, Kemper's performance has become remarkably nuanced for such a slapsticky, cartoonish creation, and Kimmy Schmidt herself is starting to look like the indomitable figure that the title's "unbreakable" was always meant to signify.

The story of Kimmy Schmidt's continuing education was bound to get bumpy, but it remains entertaining, and season 3 has every chance to graduate with honors.

The first half of the season (which is what was available to critics): the show is extremely clever, but not particularly funny.
Kimmy está de volta com toda sua glória em mais uma temporada engraçada, inteligente e astuta graças a experiência e habilidade de seus

Kimmy está de volta com toda sua glória em mais uma temporada engraçada, inteligente e astuta graças a experiência e habilidade de seus escritores Tina Fey e Robert Carlock.

…

Expand

There are so many jokes per minute it's sometimes hard to catch them all. This is comedy for people who like an overload of finely crafted

There are so many jokes per minute it's sometimes hard to catch them all. This is comedy for people who like an overload of finely crafted jokes. Some may say it's too many jokes, but those people are probably too serious for you to value their opinion on funny stuff, right?

…

Expand

Cleverly funny, the show delivers 30 minutes of joy with each episode. The script is as smart as ever, and this time around Kimmy goes to

Cleverly funny, the show delivers 30 minutes of joy with each episode. The script is as smart as ever, and this time around Kimmy goes to college. Her path is full of obstacles, but she remains Unbreakable. Worth the binge-watching.

…

Expand

Aunque sigue siendo graciosa e inteligente algunos capítulos no tenían chiste
La falta de interacción entre el personaje Jane Krakowski esAunque sigue siendo graciosa e inteligente algunos capítulos no tenían chiste
La falta de interacción entre el personaje Jane Krakowski es casi nula y eso hace que su historia no interese.
Titus Burguess y Carol Kane para mi gusto son los que sacan a flote esta temporada graciosos y absurdos desde le principio hasta el final.
Los peor de esta temporada se lo lleva la propia Kimmy Schmidt que aunque tiene sus momentos de gracia la mayoría de sus chistes no aterrizan bien,
Buena la temporada pero no llega al nivel de las primeras dos temporadas.

…

Expand

Kimmy Schmidt Season 3 has its moments of humour but overall feels like later seasons of 30 Rock, a lot of ideas, words and warm fuzzies but

Kimmy Schmidt Season 3 has its moments of humour but overall feels like later seasons of 30 Rock, a lot of ideas, words and warm fuzzies but not enough laughter. Overall the season felt like a build up for something big, but you will be waiting in vain.

…

Expand

This review contains spoilers

, click expand to view

. I'm giving it a 6 for the continued comic genius of fey and carlock , they've found a way to poke fun and be in bed with: the mainstream liberal, democratic snowflakes, the 1%, current college culture, feminism, race, and gayness. And while much of this was really a retort to the backlash of criticism from previous seasons, they captured and presented it beautifully on a platter.
But about a quarter of the way in, I noticed the storyline lacking; dilemma's presented themselves, but they were solved as if we knew what had transpired and repeatedly I was left wondering if I had missed something. Given the strong writing by Fey in the past, this could be just bad editing, or it could be that the priority was not on the protagonists and their personal journeys but the jabs (albeit funny as hell) at the current climate and the poking a stick at the dead horse known as its critics.
Regardless of my disappointment nothing will ever compare to Titus' Lemonading. which was a thing of beauty.

…

Expand

This season 3 is horrible ... I did not like this season at all it was boring and very weird .. Not as funny as the first 2 seasons .

This season 3 is horrible ... I did not like this season at all it was boring and very weird .. Not as funny as the first 2 seasons . .................

…

Expand