Network:

Netflix

Series Premiere Date:

Mar 6, 2015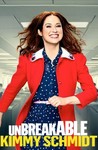 Summary:

The first full season under Netflix and already renewed for a third season, the comedy finds Kimmy seeking a new love interest as she tries to avoid dealing with her past.

Genre(s):

Comedy
Season 2 premiere date:

Apr 15, 2016

Episode Length:

30
Please enter your birth date to watch this video:
You are not allowed to view this material at this time.
Unbreakable Kimmy Schmidt
It's the riotous rhythms and bold attitude that drive the premiere, and it's fudging hysterical. [15 Apr 2016, p.48]

Fey and Carlock have delivered basically the same show they did a year ago. Given how great that original NBC version was, I can't really complain. If your biscotti recipe is already deliciously weird, why change the ingredients?

Beyond Kimmy's personal issues, Unbreakable continues to highlight some outstanding comedic performances within the ensemble. ... Not every note is in perfect harmony--especially when it comes to the way this season reacts to the way Season 1 was criticized for its depiction of race. Rather than shy away from controversial issues, like Jacqueline's "real" background as a Native American, Season 2 makes that storyline a major focus of the first episode.

Still-irresistible. ... Krakowski, Kane and Tituss Burgess, who plays Kimmy's roommate Titus Andromedon, all have had character upgrades.

It's almost cartoonish in its approach to the sitcom, to an extreme that sometimes pushes it into avant-garde territory: Not only would Daffy Duck understand what Kimmy is up to--so would turn-of-the-20th-century Dada and Surrealist artists. Unbreakable Kimmy Schmidt is Fey and Carlock's PhD project in comedy.

What sets the show apart is its tireless, formless, free-flowing pursuit of laughs--and a cast that can ride that wave while also giving some human dimension to what are essentially vaudevillian characters.

The show's maniacal co-creators have crafted a series that's rising head-and-shoulders above its peers, and there are a lot of great parts of Unbreakable Kimmy Schmidt season 2. But, at the same time, there is an ever-so-slightly lesser amount of giddily inventive ones.
so good and funny! Tina Fey is the comedy queen. i would love see Amy Poehler in some episode. Titus is the best gay chacter since...Always.

so good and funny! Tina Fey is the comedy queen. i would love see Amy Poehler in some episode. Titus is the best gay chacter since...Always. Netflix has to do a 3 season.

…

Expand

Kimmy Gets a Second Season! Ellie Kemper is so blissfully perfect as Kimmy, and Titus is funnier than ever. Although I thought Jane

Kimmy Gets a Second Season! Ellie Kemper is so blissfully perfect as Kimmy, and Titus is funnier than ever. Although I thought Jane Krakowski's character was too close to 30 Rock's Jenna in season one, her character actually grows this season and is not so one note. And Tina Fey's (and her staff of writers) rat-a-tat dialogue is brilliant. One complaint. All the Robert Durst references. The Jinx must have aired just before shooting (it was Feb - Mar 2015). Sorry. I could care less about Durst, so as much as I love Fred Armisen, those scenes fell flat. Other than that comedy gold. Those with negative reviews have a serious humor deficiency.

…

Expand

A better way Kimmy back to its 2 season.
Unbreakable Kimmy Schmidt is not a series with a great history , but hears a breakthrough comparedA better way Kimmy back to its 2 season.
Unbreakable Kimmy Schmidt is not a series with a great history , but hears a breakthrough compared to the first season, this season we can see most captivating characters in more interesting situations , to talk about the incredible participation of Tina Fey and huge hook final scene ...

…

Expand

Lamentablemente la fresca comedia de Tina Fey y Robert Carlock pierde brillo en su segunda temporada ya que toman la extraña decisión de

Lamentablemente la fresca comedia de Tina Fey y Robert Carlock pierde brillo en su segunda temporada ya que toman la extraña decisión de mantener el universo de gente estúpida y darle protagonismo a los personajes secundarios causando desvíos que apenas contribuyen a la historia o a las risas.
En esta temporada Kimmy deja de ser la chica descubriendo un nuevo mundo para tratar de adaptarse a la sociedad como adulta, primero enfocándose en el trabajo y el amor y luego tratando de conocerse mejor de manera en terapia. Mientras que Titus tiene dramas amorosos, Jacqueline busca un nuevo rol al de esposa trofeo y Lillian intenta mantener el status quo del barrio.
La primer mitad de la continuación de la serie es bastante irregular, tiene sus momentos, pero en general no tiene ni gracia ni sentido debido a que todos se comportan de forma tan tonta. Tina Fey levanta un poco la calidad de los episodios gracias a su nuevo personaje, Andrea/Marcia, quien devuelve el interés en el desarrollo del personaje de Kimmy Schmidt.
En general esta temporada es promedio en cuanto a estándares de calidad, tiene sus cosas buenas en la segunda mitad y algunos números musicales de Titus, pero en general se pierde mucho potencial explorando a personajes que apenas tienen carisma en pantalla.

…

Expand

Wretched girl trods about the city like a moron. Gives your eyeballs strain with the colors and super sweet dialogue. Hope this ends soon to

Wretched girl trods about the city like a moron. Gives your eyeballs strain with the colors and super sweet dialogue. Hope this ends soon to make way for better ventures.

…

Expand

I watched about seven episodes of season 1 and then quit. When I saw that season 2 was released, I wanted to give it another try.
I thoughtI watched about seven episodes of season 1 and then quit. When I saw that season 2 was released, I wanted to give it another try.
I thought that maybe, my review here of season 1 wasn't justified and that I did this show wrong.
Last season, I thought that the show's premise, being locked up from 2000-2015 in a bunker, isn't really used in the show and is dropped for a simple "girl from the midwest is coming to New York City".
I thought it was ok, amusing, sometimes funny, but not really good.
Well, I gave it another try and my conclusion is: OMG it's gotten much worse.

I watched 3 episodes and during episode three I simply gave up. The show gave my an actual headache.
There is so much overacting, yelling and making weird faces.
There are so many arbitrary subplots crammed together and put in sequence, you think: wth is this?
Is this show pandering to a "15 and younger" demographic with hyperactivity disorders and no attention span?

Sure, there's also funny bits to be found, that's why I gave more than one point, but those don't make up for the rest.
This show is a hectic mess that's all over the place. I can't believe it's got Tina Fey's name on it.
All the good reviews this show got is a mystery to me.
I really wanted to like this show, again. I really was prepared to revise my opinion on it.
But his show is simply unbearable.
I can't believe people are giving a thumbs up for this big pile of annoying crap.

Sorry, Tina. And I mean it. But it had to be said.

…

Expand

A friend told me about his show because he was concerned about a comedy showing SWAT team members at the opening. He pointed out that it is

A friend told me about his show because he was concerned about a comedy showing SWAT team members at the opening. He pointed out that it is conditioning for our abusive police state.

That aside, season 1 was amusing, though Titus gets old fast.

Season 2 was completely unwatchable, but I watched much of it as background TV. What seemed interesting is that Kimmy changed her acting during the season (2/3 the way through?). She went from being a clueless idiot to being serious and far less goofy. Perhaps she responded to someone telling her that her characterization was absurd.

I find this show highly annoying and completely unfunny. Kimmy and Titus could both be used as torture devices. Her personality is disgusting.

…

Expand