Network:

HBO

Series Premiere Date:

Jan 12, 2014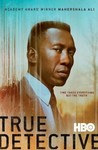 Summary:

Arkansas state police detectives Wayne Hays (Mahershala Ali) and Roland West (Stephen Dorff) seek to solve the mystery of a disturbing crime that took place years ago in the Ozarks.

Genre(s):

Drama

,

Action & Adventure

,

Suspense
Season 3 premiere date:

Jan 13, 2019

Episode Length:

60
Please enter your birth date to watch this video:
You are not allowed to view this material at this time.
Ali is impressive in all three life stages, but his performance as the haunted and addled 70-year-old Hays has the most resonance.

The new season has some of this same incomprehensibility [of season 1 and 2], but a relatively small amount. Everything about it is toned down. The creepy totems left at the scene of the crime seem like a willful echo of the first season's tangles of twigs, but without their eerie power. Ali is excellent as Hays.

If you subscribe to the opinion that the original True Detective was terrific and the second edition, well, wasn't, the third marks a bracing case of going back to the future. That's because this latest season largely mirrors the first, unspooling a mystery across three distinct time frames while receiving an enormous star-power boost courtesy of Mahershala Ali.

[The third season] has much more in common structurally and tonally with the first season but still can't quite compare with that year or the best of current television it so wishes to join.

It's a time-shifting saga about an emotionally disturbed person trying to solve the disappearance of children in a rural area, a tale told mere months ago on this same cable channel, in a dazzling adaptation of Gillian Flynn's Sharp Objects. But there's still plenty to like, starting with the way Pizzolatto and Deadwood creator David Milch (who was a consultant and co-wrote an episode) have decided to focus not on a mismatched buddy-cop team, but on a single protagonist, Arkansas detective Wayne Hays (Mahershala Ali).

The new somber mystery will satisfy fans seeking the old True Detective high, and the Ozarks setting will surely please your cousin who loves Ozark. The acting is very strong. ... But Saulnier departs the series after the second hour. And the episodes that follow (I've seen through the fifth) feel repetitive, dreary, self-serious if not just mopey.

The new "True Detective" is faintly pretentious, manageably ridiculous, and dull. ... Throughout his terrific performance as this emotionally wounded warrior, Ali steams and simmers and smolders with repressed emotion. The display of heat is all the more remarkable because the script sheds little light on Hays's inner self.
Just enough like season 1 to feel like a real follow-up, but the characters and the world are so distinct that it doesn't feel like an attempt

Just enough like season 1 to feel like a real follow-up, but the characters and the world are so distinct that it doesn't feel like an attempt to repeat past glory. It's so good to have it back. As everyone points out, it's not season 1, but it doesn't really have to be and it's unfair to constantly compare the two. This is fantastic in its own right.

…

Expand

Amazing start for True Detective season 3. Incredible performances (particularly Ali, Dorff and McNairy), beautiful cinematography and really

Amazing start for True Detective season 3. Incredible performances (particularly Ali, Dorff and McNairy), beautiful cinematography and really tight writing help make the first 2 episodes match the first season in quality. On a side note, Metacritic can you please add Richard Roeper's (Chicago Sun Times) 4 out of 4 star review for this season. Thank You.

…

Expand

Ali owns the third season of TD, with some quality assistance from Dorff. The slow simmer may lack the audacity of season one, but the spices

Ali owns the third season of TD, with some quality assistance from Dorff. The slow simmer may lack the audacity of season one, but the spices are there to savor. The first two episodes stayed with me, prompting reflection on the pieces of the puzzle revealed. Focused viewers will be rewarded. The soundtrack is also of note, so watch and listen to this high caliber season. I can't wait for the next episode.

…

Expand

It has been nearly four years that we haven't heard anything much about True Detective ever returning back to TV, and ladies and gentlemen it

It has been nearly four years that we haven't heard anything much about True Detective ever returning back to TV, and ladies and gentlemen it is here, the long awaited third season of True Detective is back and better than ever. Season three is the true season that we all truly deserved since the first. There may be ups-and-downs in terms of a slogged-up underutilization of choices that adds up to the conclusion with only eight episodes again, but everything from the superb acting, casting, camera work, and writing of this new season may be the best flavor to chew on rather than a rushed plot that divided most people on the second season years back. And again, season three is a big improvement than its anthological predecessor since it's a revitalization of the first season with a much clearer picture and a gritty narrative that we're all familiar of. Is it better than season one? Nope – but it's better than two alright.

…

Expand

The third season reminds me a lot of the first and it carried heavily by the fantastic performance of Ali. And it's very interesting to see

The third season reminds me a lot of the first and it carried heavily by the fantastic performance of Ali. And it's very interesting to see the three different time periods all work out to cover the one case this season revolves around. Season 3 is a return to form for sure, I can't wait to see how it all comes together.

…

Expand

Pretty Pretty Pretty Pretty Good. After the disaster that was season two I was expecting a repeat of nonsense, but it seems Nic Pizzolatto

Pretty Pretty Pretty Pretty Good. After the disaster that was season two I was expecting a repeat of nonsense, but it seems Nic Pizzolatto has found his way back to HBO Sunday night relevance even without Cary Joji Fukunaga. These first two eps were thick, and meaty, I eagerly await next weeks installment. Huzzah!

…

Expand

It feels like all of the characters are trying to speak in a 'dark' tone, and it fails to add depth to the screenplay because it feels forced.

It feels like all of the characters are trying to speak in a 'dark' tone, and it fails to add depth to the screenplay because it feels forced.

Every conversation the protagonist has with the side characters looks unnatural because it feels like the screenwriter is trying to put information into our heads. So far I didn't like it. Might give it a re-watch so that I can despise it even more.

TL;DR : Bad acting and screenwriting, laughably pretentious.

…

Expand