Network:

DC Universe

Series Premiere Date:

Oct 12, 2018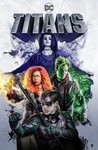 Summary:

Dick Grayson aka Robin (Brenton Thwaites), Rachel Roth aka Raven (Teagan Croft) up with Gar Logan aka Beast Boy (Ryan Potter) and Koriand'r aka Starfire (Anna Diop) come together to defend Earth from destruction in this live-action series based on the Teen Titans characters.

Genre(s):

Drama

,

Action & Adventure
Season 1 premiere date:

Oct 12, 2018
Come for Robin saying "F---Batman," stay to see how many bodies the teens drop trying to stop the occult apocalypse prefigured by Raven. [12 Oct 2018, p.49]

The superhero Sturm und Drang and personal melodrama that Titans offers is attractively packaged and reasonably entertaining in the early episodes. ... If you're partial to the more serious end of the comic-book spectrum, you may already be watching "Black Lightning" on CW, "Jessica Jones" and a few others on Netflix, "Legion" on FX, "The Runaways" on Hulu and "Gotham" on Fox. "Titans" may deserve to join the list, but it's a big ask.

Titans is a superhero hybrid -- a live-action series that essentially weds the CW's DC Comics-inspired fare with the gritty, premium-cable approach of Marvel's Netflix dramas. That's not a bad formula, and it yields an entertaining, heavily serialized show.

Another superhero show is overkill, but for what it is, Titans strong-arms its way into acceptance and occasionally more (the series' depiction of a Beaver Cleaver-style family of killers, introduced in episode two, is especially clever).

Titans is a try-too-hard stab at occupying a middle ground between grumpy, but still family friendly, DC offerings like The CW's Arrow and the definitely-not-for-kids Marvel shows on Netflix. ... What it doesn't mean, at least through the three episodes sent to critics, is any sort of extra creative depth or narrative exploration.

Titans is poorly made, acted, and written enough to be considered a "bad" show, but not nearly crazy, ambitious, or just plain weird enough to be worth it for the discussion alone. It is a slog. It is, in fact, the sloggiest slog I've ever slogged.

Thwaites doesn't have anything near the gravitas required to pull off this self-righteously vicious approach. If you're going to say "Fuck Batman," that's your right. But you'd better back it up with more than what Titans has to offer, or you just seem like a frustrated poseur who wants to seem much tougher and cooler than you can ever hope to be.
The series proved DC's progress in film making,I realy enjoyed it but it's better that it has a better ending at season 1,probably they have a

The series proved DC's progress in film making,I realy enjoyed it but it's better that it has a better ending at season 1,probably they have a big plan for season 2 :)

…

Expand

This show is awesome at first I didn't like starfire but now I think she is a really cool character

Better than most of the cw shows. In please ignore the comic book purist and the people who are afraid of a dark storyline because the mcu

Better than most of the cw shows. In please ignore the comic book purist and the people who are afraid of a dark storyline because the mcu told them to. Just enjoy it for what it is or hate it for what it is, just don't expect for it to be the teen Titans cartoon. Because it isn't, it was never advertise as so.

…

Expand

I am not a follower of the Titans comics. I was surprised by the almost dark horror style of the show. The story so far isn't that bad but

I am not a follower of the Titans comics. I was surprised by the almost dark horror style of the show. The story so far isn't that bad but very slow to unveil itself. The acting is spotty but at least some of the main characters are solid. It's more a question of experience then anything but you do get some experience actors after a while. I really do like the Robin actors. They do bring some grounds up to the fantastic side of the show. The action gets better with time. You do feel the director isn't used to make a dynamic action scene, and so, the choices of camera and angles can be poor at first. The music was a fun part. Fitted to the character and I like it. The last 2-3 episode are very strong. I give it a 70%. I think it can only evolve in a positive manner. That was a nice introduction.

…

Expand

I do not like the way the characters are, it's very artificial, it could have been worked better and have made them more natural to the story,

I do not like the way the characters are, it's very artificial, it could have been worked better and have made them more natural to the story, unfortunately the DC always misses the hand, has great stories but can not turn them into great movies or series.

…

Expand

Good points:

Characters generally good, but Starfire needs a new wardrobe. Hawk and dove are largely pointless so far. More Donna TroyGood points:

Characters generally good, but Starfire needs a new wardrobe. Hawk and dove are largely pointless so far. More Donna Troy please.

Raven is awesome, but I'm biased as she's one of my favourite DC characters.

The stars of the show are really doing their best.

Bad points:

The storyline is so dragged out it feels like a slog. The final episode could have been done in a paragraph, its almost entirely just filler and stupid filler at that.

By now you'll know that the series is much darker than most hero series, its not just dark it's pitch black. Now if you take the punisher for example it fits this kinda feel because it's the punisher and that's what he does. Robin does not kill people, he just doesn't, it's one of the core things about him and batman. To remove that means they have in effect created an anti-hero who doesn't fit anywhere and it just doesn't feel right.

Frankly its not fun to watch. Back to the punisher, I'm ok with how dark it was because it fits how castle feels. He's on a mission to get revenge while carrying a soul filled with grief, he's not going to be cheery, and nobody expects it. But you want to follow him because you feel like he's got the (kinda) moral high ground.
The titans on the other hand have always had some humor, its not always dark and dismal with them and it's been forced that way and for the life of me I don't know why. I honestly don't care what happens to robin because as far as I can see he is a murdering psychopath with all the morallity of an ally cat.

So many moments where you think WTF are they doing.

What on earth made them dress Starfire like that?

The whole series storyline could fit on a pamphlet, now that's fine if the rest is spent developing the characters, but it's not really. There is some but I watched the whole series over 3 days, I finished it 10 mins ago and I'm struggling to name a part where I went 'oh that's interesting'

Summary:

Not for kids
If you looking for fun this isn't it
The writer's seem confused and from reading other reviews so are the audience.

At the moment the series is like a very drunk friend. From what you can see there is glimmers of the awesomeness you know. But at the moment it's trying to punch you and has been sick on your shoes. Let's see if it can sober up for series 2.

…

Expand

As a pretty big fan of the original Teen Titans I was actually pretty excited for this series, excited and a bit scared, given Netflix's track

As a pretty big fan of the original Teen Titans I was actually pretty excited for this series, excited and a bit scared, given Netflix's track record for reboots, remakes and the like.
Fear was the right reaction to have. They kept almost nothing of the original characters and their, well, character. Even Teen Titans Go makes a better job of maintaining their personalities intact.
As a sidenote, We already had one black character in the original, there was no need to blackwash Starfire. If they really needed a second black character, hell, do Beast Boy. You know, since you already changed his skin color from green to white, might as well.

…

Expand