Network:

PBS

Series Premiere Date:

Sep 17, 2017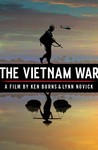 Summary:

Ken Burns and Lynn Novick returns with a 10-part, 18-hour documentary miniseries about the war features interviews, archival footage, home movies, photos, and audio clips, as well as original music by Trent Reznor and Atticus Ross.

Genre(s):

Movie/Mini-Series

,

News/Documentary

,

Documentary
Show Type:

Mini-Series

Season 1 premiere date:

Sep 17, 2017
Time and again, over a span of more than 35 years, we find Burns constructing bridges that insightfully and profoundly link Americans with their history. Nowhere has that been more powerfully true than in the 18 hours of his stunningly realized, intricately detailed 10-part film, The Vietnam War.

Those who lived through the period should find "The Vietnam War" a highly emotional experience. But even their kids and grandkids should hear and see echoes throughout this epic undertaking, which forges a bridge from America's past directly to its present.

Burns and Novick are less interested in scoring political points than they are in the idea that world-changing events look so different when you're trapped in them. More than in any other Burns miniseries, The Vietnam War lets you feel what it's like to be crushed under history's heel.

The Vietnam War is both the most powerful film Burns has produced, and the most despairing. ... By the end of the fascinating, sometimes wrenchingly hard to watch 18 hours, it's impossible to regard the Vietnam War as anything other than an agonizing failure, one that taught Americans to be cynical about a government that lied to them, sent Americans off to risk their lives, and made one costly bad decision after another.

Hour for hour, it's one of the best things I've seen on TV this year--but because it frequently comes so close to becoming not just impressive but important, challenging, even agenda-setting. But it never quite pushes itself over that line.

It's a mammoth, epic undertaking that starts with a smart opening episode. "Déjà Vu," beautifully written by Geoffrey C. Ward, manages to both deliver the expected (images of Vietnam, first-person accounts of fear and heroism in combat) and the unexpected (a history of the conflict that drills down beyond the immediate run-up all the way back to the beginning of French colonialism in 1858).

The strength of The Vietnam War comes from these 80-odd interviewees, who offer a glimpse into the psyches of people on all sides of the conflict--from reluctant American draftees to enthusiastic North Vietnamese recruits. ... At times, the length of The Vietnam War detracts from its appeal. Even with the headings, it can be hard to keep the years and offensives straight.
I recommend everyone with a shred of ethics, decency and heart to watch this series. There are so many shows, books, movies and opinions about

I recommend everyone with a shred of ethics, decency and heart to watch this series. There are so many shows, books, movies and opinions about Vietnam out there, it's easy to get caught up in the least important aspects of the war, who won, who made bad decisions, what to do differently....What this documentary does is bring the events of this war back to the lives of the people who were there. The personal stories of life in war that doesn't give a damn about politics only the struggle to survive and retain some semblance of humanity. It's something we should not and cannot forget.

…

Expand

Watching this, my threshold 'metrics' to determine if it's ever worth fighting in a foreign conflict are:

- if your political/businessWatching this, my threshold 'metrics' to determine if it's ever worth fighting in a foreign conflict are:

- if your political/business elite aren't firstly prepared to sacrifice their children - DON'T
- if your fighting to protect a political ideology and not to protect fundamental universal human rights - DON'T
- If it is a civilian conflict - DON'T

If, after WWII, the U.S. had enshrined a similar core set of enduring 'metrics' to guide it's foreign interventions, I wonder how many of it's wars were truly worth fighting.

…

Expand

This is a masterpiece of storytelling, from all sides. I am a student of war. But this is the first time that I can actually feel the

This is a masterpiece of storytelling, from all sides. I am a student of war. But this is the first time that I can actually feel the stupidity of it all. Thousands of Americans, and millions of Vietnamese died because a few politicians wanted to save face. What a totally, complete waste of money, resources and lives. Maybe this great documentary will help remind the people in charge that there is, absolutely, nothing worst than war.

…

Expand

After all the so many, many movies, shows, docs, books etc. on this war saturated the culture for over twenty years, this definitive epic doc

After all the so many, many movies, shows, docs, books etc. on this war saturated the culture for over twenty years, this definitive epic doc now newly educates and gives understanding and insights. My only criticism is its segmented style, not in episodes but in punctuations every few minutes or so which halt the flow even if effective at times.

…

Expand

I grew up during the Vietnam War, so some of the information was familiar. Yet Ken Burns, Lynn Novick and company give as broad a view of the

I grew up during the Vietnam War, so some of the information was familiar. Yet Ken Burns, Lynn Novick and company give as broad a view of the war as possible, interviewing grunts and generals, politicians and grieving families. Most important, we get to hear from the Vietnamese on both sides for the first time. The early episodes on how the war began were particularly informative. Although this will undoubtedly become a reference work for times to come, sometimes I wished there was a bit of editing - the countless battles can become rather wearing and difficult to watch.

…

Expand

The 23 part Canadian TV show , The 10,000 day war, broadcast in 1981 has been to date the strongest and most accurate representation of the

The 23 part Canadian TV show , The 10,000 day war, broadcast in 1981 has been to date the strongest and most accurate representation of the Vietnam conflict . The war was close and proximate then and that show had an up close and personal feel.
This new production feels more historical. It has its strengths and weaknesses of course.It uses actual footage interchanging with personal interviews of the many different participants both US and Vietnamese. No one high profile. This is the strong part of the documentary. Along with an excellent music track. The only positive of the war was its music and it wasn't worth that.
The weakness is in the political bias regarding the actions of differing presidents. Nixon banned agent orange, ended the draft, and then ended the war, created peace with China and enacted the first ever nuclear disarmament deal with the Soviet Union but the producers don't credit him enough instead concentrating on his Watergate scandal. Weak on producers part.
Johnson, who is the real villain of the piece, in contrast can be fairly called a war criminal who bombed and murdered children, is given as soft a ride possible. Likewise soft on Kennedy , a dreadful president, whose incompetence and stupidity barrelled the US into this most reprehensible of wars in the first instance.
This production aside, the fact the nothing seems to have been learned by the US political body or the military or frankly the American people (as evidenced today by continuing foreign interference) is the most upsetting of all.

…

Expand

I am a Vietnamese refugee, coming over in 1975. I've recently devoted my husband's and my time and efforts to honoring the Vietnam vets in our

I am a Vietnamese refugee, coming over in 1975. I've recently devoted my husband's and my time and efforts to honoring the Vietnam vets in our area.

This was the 1st time we had seen any documentary by Ken Burns, and it was obvious why he's so revered, since he is a masterful storyteller. The series had been advertised as one that would show all sides of the war. We were really looking forward to a documentary that would be fair to all sides. This is where things went wrong, because our expectations were in one place, and the reality of the series was in a very different place. That space in between is where our disappointment lay.

Generally speaking, the series started off with romanticizing Ho Chi Minh, nearly canonizing him, when this was far from the truth of the type of man he was. The Communist fighters were also exalted, while the US and ARVN military units were made to look like bumbling fools most of the time. Our takeaway from the series was that the creators felt there shouldn't have been any US interference in Vietnam, that HCM just wanted to liberate and unify his beloved country, and that US involvement just resulted in lots of unnecessary deaths overseas and strife at home. What the series didn't say, however, is that HCM wanted to unify Vietnam, but under his control (or Communist control), and didn't care if he killed every last Vietnamese person doing it.

After many frustrating hours of watching episodes 1 through 9, we also had high hopes for the series to wrap up on an intense note for episode 10. Unfortunately, we didn't even get that from the final episode. We compared it to a recent unsatisfactory meal, where we had eaten a bowl of rice that had no flavor to it, that made us feel really full, but not satiated, so therefore, empty, at the same time.

In spite of this, we are very grateful for this series generating more awareness about the war and about the mistreatment of its veterans during and afterwards. This has allowed many good conversations to be had, and we hope they continue.

…

Expand