Network:

SundanceTV

Series Premiere Date:

May 23, 2018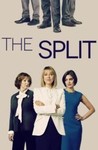 Summary:

Divorce attorney Hannah Stern (Nicola Walker) left her family's firm after her mother (Deborah Findlay) refused to give her a promotion and joined a rival firm where her ex (Barry Atsma) also worked. But the return of her father after 30 years causes Hannah and her sisters (Fiona Butto &

Divorce attorney Hannah Stern (Nicola Walker) left her family's firm after her mother (Deborah Findlay) refused to give her a promotion and joined a rival firm where her ex (Barry Atsma) also worked. But the return of her father after 30 years causes Hannah and her sisters (Fiona Butto & Annabel Scholey) to face their past in this British drama from Abi Morgan.

…

Expand

Genre(s):

Drama
Season 1 premiere date:

May 23, 2018

Episode Length:

60
For all its wandering through hopeless plotlines like Rose's endless adventures planning her wedding, an effort at inspired abandon that grows more ghastly by the minute--and there are a lot of those--The Split in time finds its footing as powerful drama.

An addictive guilty pleasure. [14 - 27 May 2018, p.11]

The caliber of the cast and Jessica Hobbs' lush and active direction elevate The Split from being a little too soapy and predictable when it comes to the drama of the DeFoe's personal lives. Each member of the cast brings an emotional honesty to their performance, particularly Walker.
So often in a drama there is a character that doesn't make sense (for me, this is Toby in "This Is Us") or plot points that don't compute (as

So often in a drama there is a character that doesn't make sense (for me, this is Toby in "This Is Us") or plot points that don't compute (as in "The Bodyguard," later episodes especially). And/or there are scenes I long to leave (typically featuring the 'C storyline') to get back to more interesting stuff, or scenes featuring the main characters or plot that nevertheless feel interminable. Worst of all, there are series where the action moves so very, *very* slowly, that when something actually happens I almost don't notice ("Save Me," a Sky Atlantic show, has that problem, plus a bit of the 'nonsensical characters' one also.)

"The Split" is so amazingly well-written and compelling that it doesn't trigger any of these problems. Every episode is split (ha) just right between dealing with the characters' interpersonal issues, the 'case of the week' (the show revolves around divorces and custody battles), and a longer arc related to a high profile divorce. The interpersonal issues include professional rivalry between solicitors (who just happen to be sisters), romantic relationships, and the reappearance of a father who abandoned the main character and her sisters decades earlier. The individual cases are interesting and typically both amusing and thought-provoking to varying degrees. And given that the high profile divorce is between characters played by actors I've enjoyed watching for decades (Meera Syal and Stephen Tompkinson), it just couldn't get any better really.

Did I expect to rave over and recommend a show about a London solicitor specializing in family law, who leaves her family firm to work for a larger company when her mother won't relinquish the reins of power? Nope. But check out an episode (I saw it over several British Airways flights, but it seems to now be streaming on hulu) and I think you'll be sucked in by it too.

…

Expand