Network:

ABC

Series Premiere Date:

Oct 16, 2018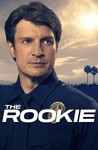 Summary:

40-year-old John Nolan (Nathan Fillion) decides to move from his hometown to Los Angeles to pursue his dream to join the LAPD in this crime drama from Alexi Hawley.

Genre(s):

Comedy

,

Drama
Season 1 premiere date:

Oct 16, 2018

Episode Length:

60
[Fillion's] character fits him like a well-worn suit. ... Full of action, interesting characters, and a little bit of romance, The Rookie is a sure-fire hit.

This feels like an ensemble with real potential. [19/26 Oct 2018, p.85]

What really makes The Rookie interesting is watching Fillion maneuver among all these sharp elbows while balancing the shortage of adrenaline with the bonus supply of experience that both come with middle age. He does it all with the same let's-have-a-beer amiability he's displayed in shows as diverse as Firefly and Castle. He'll make you forget Kate Jackson is missing.

Fillion's strengths are key, because despite the show's best efforts to drape multiple dramatic storylines around him in the one episode ABC made available to review, there's just not a lot that stands out otherwise. ... It's a breezy drama that doesn't demand much from the viewer, but Fillion's easy charm is tough to dismiss.

There's enough parity in the group to keep viewers engaged, be it from their slew of emergencies (like a crazy man screaming about unicorns on top of his car) or testy inter-personal dynamics. Even after the ridiculous opening scene, Fillion manages to fill Nolan with enough foolish sincerity to be a believable human being.

Fillion is vulnerable and appealing, and he has welcome help from Richard T. Jones as his tough-as-nails boss. But The Rookie seems destined to test the limits of that charm, in a show where the shaky imagery can't obscure that we've seen every beat here before.

Fillion fans will be happy to see their hero back on the tube; for everyone else, The Rookie has a "been there, done that" feel.
It was a great show. Nathan Fillion led the show very well with a great supporting cast. I am interested in seeing where it goes. The only

It was a great show. Nathan Fillion led the show very well with a great supporting cast. I am interested in seeing where it goes. The only thing I didn't like the romance. In my opinion, the old man young woman trope does not work. But I enjoyed the show overall and will be back for more.

…

Expand

This I gotta admit is the number one action of the fall it's no doubt one of the best shows of the year too I must admit I was unsure at first

This I gotta admit is the number one action of the fall it's no doubt one of the best shows of the year too I must admit I was unsure at first but let me tell you this was no doubt a hit for abc I know I'll be watching Tuesday. It's like Richard castle never even left plus the fact that there is hilarious humor doesn't hurt it either

…

Expand

This review contains spoilers

, click expand to view

.

Great cast, taking an old narrative into deeper realms. It's a tough story to sell but Episode after episode, the characters keep growing and the direction feels natural and even new. It's easy to see the strong center that is Nathan Fillion, but the other hardened heroes with a heart of gold also make the show a winner. There's a great mentor vibe and they went straight for a work relationship and didn't string that along. Bravo. The comedy is subtle. I hope they get to weave in more.

…

Expand

Several episodes in and I think The Rookie has become a series I can see myself staying invested in for at least a few seasons. Being a fan of

Several episodes in and I think The Rookie has become a series I can see myself staying invested in for at least a few seasons. Being a fan of Nathan Fillion makes getting into The Rookie a bit easier but a good casting choice doesn't make an entire show. There are several good casting choices and a compelling foundation for the series - something that it shares with 9-1-1. Crime and police encounters can always have unique draws and getting to know the characters beyond their uniforms helps anchor the series deeper than your typical episode of COPS. Nathan Fillion's character in particular adds plenty of depth given his life situation (mid-life crisis with a twist). It still has room to grow but The Rookie has tons of promise and should have plenty of opportunities to deliver as the series ages.

…

Expand

This review contains spoilers

, click expand to view

.

My interest in this show stemmed from watching the trailers that were running on Facebook. While my wife and I have watched every episode so far, and plan to continue to do so, the show is not without its quirks. It has the typical cop-show shootout almost every week, the acting can be flat at times, and some of the storylines are a little far-fetched, but... that is also what makes the show fun. Gang shootouts, automatic weapons, mass prisoner escapes, high-speed chases, etc... are much more entertaining than what actual cops experience during routine shifts. The serious side of the show comes out when they are showing empathy for the city's homeless population, handling the discovery of an apartment full of illegal immigrants, and the relationship struggles with the rookies' families handling their transition to police officers. The show continues to be a draw for me, and as long as people watch it with the expectation of it being more of a comedy than a drama and do not expect it to be too realistic, I think they will like it also.

…

Expand

Lost interest after the comedy angle disappeard completely - not that there was a lot of it. Also felt like they tried to check too many

Lost interest after the comedy angle disappeard completely - not that there was a lot of it. Also felt like they tried to check too many boxes in a manual of how to write TV scripts.

…

Expand

After all the hype & being a Fillionite, I was soooo disappointed. Too chaotic; tried too hard to be funny. A 40-year old cop that ran full

After all the hype & being a Fillionite, I was soooo disappointed. Too chaotic; tried too hard to be funny. A 40-year old cop that ran full speed for five blocks and not even winded - really? And what happened to Nathan? Shot with unflattering lighting to make him look older? He just looks gaunt, tired and life- worn until seen having breakfast with a girl young enough to be his daughter - not his lover. Suddenly handsome again. Decide! I'm going back to New Amsterdam - but with a heavy heart.

…

Expand