Network:

Netflix

Series Premiere Date:

May 4, 2018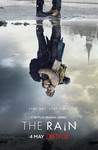 Summary:

A brother and sister emerge from their shelter six years after a rain-based virus wiped out much of the Scandinavia's population to see if there are other survivors in this Danish sci-fi horror series created by Jannik Tai Mosholt, Esben Toft Jacobsen and Christian Potalivo.

Genre(s):

Drama

,

Horror

,

Science Fiction
Season 1 premiere date:

May 4, 2018

Episode Length:

60
The Rain's greatest strength might be its clever hand with doling out information. If post-apocalyptic fiction has become too rote and familiar over the last decade, a good mystery yarn never loses its appeal, and The Rain spins mysteries well, dropping reveals and intriguing tidbits with impeccable timing. That quality makes The Rain a great binge show.

Once you get over the ludicrousness of a killer virus whose host is the weather, The Rain is a taut, tense thriller. The first Danish original series to come from Netflix, it's gratifyingly fast-paced and unfailingly dark.

Though Netflix's latest binge-a-thon doesn't always handle the logistics of that situation in a completely convincing way, its premise provides a sturdy backdrop for the suspenseful story of a girl striving to protect her younger brother at all costs.

Despite some shaky attempts to build a convincing world, The Rain has much in common with "The Walking Dead."

Within the first ten minutes, it becomes obvious that it will be another post-apocalyptic drama about a virus that devastates humanity, leaving precious few people behind to figure out how to scrap their way toward continued survival. If you're into that sort of thing, it will grab your attention right away and, based on the initial three episodes made available to critics--most likely hold on to it. But if you're at all fatigued of dramas about the demise of humanity, you may find it hard to soldier through, especially if you try to swallow all eight episodes in a sitting or two.

Despite his best efforts, for a show where humanity is under attack, you ultimately need a reason to root for at least most of the humans. The Rain never gets to the point where you're pulling for the water droplets, but this is one barren wasteland that makes it difficult to care about anything other than surviving it.

It's basically a mid-tier CW or Freeform show. The execution is thin, but the premise is juicy and after watching three episodes sent to critics, I have enough curiosity to keep going.
EXCELLENT show! The kids will get on your nerves during the first 10 minutes but their behavior is necessary to push the plot forward. I've

EXCELLENT show! The kids will get on your nerves during the first 10 minutes but their behavior is necessary to push the plot forward. I've watched the entire first season in one week. I cannot wait for season 2. If you enjoy a blend of sci-fi, horror, and adventure this is the show for you. There are also some truly heartwarming moments. The characters are well-developed and you come to know them through the struggles they face. The voice overs are well-done, also. A MUST WATCH!

…

Expand

*Sorry for my english, I speak french

Ok so the first episode, i tought the story was a little bit to much/fake. But after it, I fell in*Sorry for my english, I speak french

Ok so the first episode, i tought the story was a little bit to much/fake. But after it, I fell in love with the serie. It's so stressful and well made! The character play well to. Good job Danish people. Can't wait for the second season :)

…

Expand

First of all, the target audience of this show is teenagers and young-adults, so stop complaining about predictable plots and whiny characters

First of all, the target audience of this show is teenagers and young-adults, so stop complaining about predictable plots and whiny characters (they actually develop into round characters in the last few episodes) -- that's just what you get when you're watching a young-adult sci-fi series. Secondly, stop complaining about the English subs. It's a Danish production, so just watch it in its original language. Broaden your horizon a little, geez.

Well, I enjoyed watching this show a lot. The Rain is a "smooth"-looking and easy-to-watch sci-fi series, with beautiful cinematography, wonderful actors and a good music score. Okay, the plot might be a little bit too predictable at some points, but that doesn't make it less enjoyable. It's not a perfect first season, but I genuinely don't understand why this show's user score is this low, because it deserves at least a six.

I'd say that if the first season is a harbinger of what the next seasons could be, the show can only get even better!

…

Expand

I keep watching it, I don't know why, but I do. It's kind of like looking at an accident. It's hard not too. I just find it so hard to

I keep watching it, I don't know why, but I do. It's kind of like looking at an accident. It's hard not too. I just find it so hard to believe that in the world the way it is today, that any group of any kids, any age, from any country, could be as naive about human nature as this group is. It just seems out of any choice that presents itself, they choose the worst one.

…

Expand

The new dystopian thriller from denmark, featuring blatant stupidity, annoying characters, and literally watching plants grow. Couldn't make

The new dystopian thriller from denmark, featuring blatant stupidity, annoying characters, and literally watching plants grow. Couldn't make it to the end of this show. You can play a drinking game each time Rasmus is said in an episode. Netflix - try harder.

…

Expand

I couldnt even make it through the first episode, disobedient dumb children that ruin everything causing their mother to die, just terrible

I couldnt even make it through the first episode, disobedient dumb children that ruin everything causing their mother to die, just terrible everything.

…

Expand

This show's writing is so bad that it makes you hate the main characters right from the start. I don't blame the actors though, they just got

This show's writing is so bad that it makes you hate the main characters right from the start. I don't blame the actors though, they just got a terrible director and a moron writing the script. It's easy to hate the actors given that their characters are so dumb, but I'm actually sorry for 'em.

…

Expand