Network:

FOX

Series Premiere Date:

Jan 14, 2019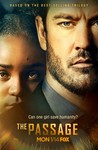 Summary:

A secret government-funded medical facility creates a new virus that could end all diseases but could also end mankind. Believing a young child is the key, FBI Agent Brad Wolgast (Mark-Paul Gosselaar) is tasked to bring in Amy Bellafonte (Saniyya Sidney) to the facility, but he begins to

A secret government-funded medical facility creates a new virus that could end all diseases but could also end mankind. Believing a young child is the key, FBI Agent Brad Wolgast (Mark-Paul Gosselaar) is tasked to bring in Amy Bellafonte (Saniyya Sidney) to the facility, but he begins to have second thoughts and they go on the run in this series based on Justin Cronin's trilogy of book of the same name.

…

Expand

Genre(s):

Drama

,

Action & Adventure

,

Horror

,

Suspense

,

Science Fiction
Season 1 premiere date:

Jan 14, 2019

Episode Length:

60
The true star of the show is Saniyya Sidney. The 12-year-old actress performs with a maturity well beyond her years. Sidney is funny, sarcastic and tough. She and Gosselaar have an authentic father/daughter chemistry.

Overall, it's a series with the promise to intrigue, terrify and bring nuanced tales of fanged villains back into the weekly fold (it's been a long time since "True Blood.") Just don't call them vampires.

To the extent that The Passage is political, it's the age-old horror/sci-fi skepticism about science empowered by government but untempered by moral considerations, the same perspective that's driven everything from the big ants of Them! to the relentless microbes of The Andromeda Strain.

The Passage is a solid example of adequate network television. ... The problem with The Passage is one that plagues practically every network TV drama: a need to keep exposition and plot development flowing at all costs, particularly at the cost of nuance. ... That said, in the second and third episodes, The Passage does a better job of slowing down and exploring the dynamics between its characters.

It's an incredibly game, consistently charming ensemble for a show that, overall, is brimming with potential. The opening chapters aren't exactly love at first bite, but there's something to this show's wonky pseudo-science and earnestly beating heart that kept me enthralled all the same.

Much of The Passage feels like [...] a placeholder waiting for the sharper, crisper second draft. Sidney and Gosselaar's bond is charming--and proof that Gosselaar, despite bad luck with recent projects, has become a reliable player on television. But it's reliant, too, on a dynamic that feels lazily overmotivated.
A série é ótima. Grandes personagens, uma trama amarrada e curiosa, uma premissa intrigante que faz querer ver cada vez mais. simplesmente genial

Cool plot, nice drama, good actors play, but small locations. Interesting what should be next

This is a great show. Keeps your attention the entire hour it is on
and can't wait till the next episode..

Hey, this show isn't bad. At least the kid isn't annoying. Yet. And once you get over Zack being in it there's some pretty entertaining stuff

Hey, this show isn't bad. At least the kid isn't annoying. Yet. And once you get over Zack being in it there's some pretty entertaining stuff to watch. I like how they're portraying the 'vampires'. Let's hope it doesn't get too mushy.

…

Expand

My thoughts after 3 episodes watched. Well I read the book many years ago (a hefty read at that) and right away I was turned off to the series

My thoughts after 3 episodes watched. Well I read the book many years ago (a hefty read at that) and right away I was turned off to the series due to the fact the show creators changed races and genders of key characters. In the book Amy is white, Dr. Sykes is a man who is a Colonel and Babcock is a man. Why must these shows change genders and races of characters in a book? Oh, wait. I forgot. Diversity.

That being said I do like the chemistry between Mark-Paul's Brad and Saniyya's Amy. That is the only reason I'm still watching this show. That and I want to see how far they deviate from the book regarding certain characters (particularly Babcock considering he is now a she). I liked the book and I want to like the show. Hopefully it will allow me to.

…

Expand

Pros:
- Superior acting from the whole cast especially the little black girl. She's perfect. Only Emmanuelle Chiquiri is totally overactingPros:
- Superior acting from the whole cast especially the little black girl. She's perfect. Only Emmanuelle Chiquiri is totally overacting in a very annoying fashion.
- Professional editing, story pacing is very engaging. Gripping suspense.

Cons:
- Ridiculous plot holes and character decisions that demand suspension of logic insult the intelligence of the audience

Verdict:
a little guilty pleasure to get your mind off things.

…

Expand

The books are a solid 10, while the TV adaptation is a 1. The reasons ? Political correctness and TV writers. The homeless guy became a love

The books are a solid 10, while the TV adaptation is a 1. The reasons ? Political correctness and TV writers. The homeless guy became a love story, the villain Babcock became a beautiful blonde lady with sexual appetites, the little girl with the special abilities, became just a simple sweet little girl, etc, etc. One more failed TV adaptation of a great book. If you've read the book, stay away. If not, I guess you can watch it.

…

Expand