Network:

CBS

Series Premiere Date:

Oct 1, 2018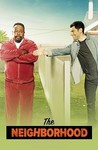 Summary:

Dave Johnson (Max Greenfield) moves his family from the Michigan to a Los Angeles neighborhood where they receive a less-than-welcoming reception from their skeptical next-door neighbor Calvin Butler (Cedric the Entertainer).

Genre(s):

Comedy
Season 1 premiere date:

Oct 1, 2018

Episode Length:

30
The comedy here can be broad, and is usually far from subtle, but there's a buried message that promises better episodes ahead.

If executed properly, "The Neighborhood" could hold up a powerful cultural mirror in the vein of [Richard] Pryor and Norman Lear. But it's not quite there yet.

It has political points too, about diversity and unity, preservation and gentrification, which are simultaneously emphasized and danced around. Stripped down to its essentials, it's a familiar sort of comedy about a person who would like to be left alone and the person who won't leave him alone. ... If Dave can seem too weird to be true, the Butler family represents a dynamic so familiar to situation comedy as to seem practically real.

Perceptiveness alone will not carry a sitcom; it's got to have jokes. And The Neighboorhood relies far too much on the novelty of a black character spouting edgy lines that we're more accustomed to hearing from a white mouth.

It's the misuse of Cedric and Greenfield that seems criminal.

It has all of the cutting-edge social commentary of a CBS sitcom from the early 1970s.

A quality cast does its best, but can't salvage the cringe-worthy dialogue and paper-thin characterizations.
I feel like we may be judging this show too harshly! This show I thought was pretty funny! I really like all the cast in it especially Marcel

I feel like we may be judging this show too harshly! This show I thought was pretty funny! I really like all the cast in it especially Marcel Spears as Marty. He carried the show for me and that's crazy when you look at all the talent surrounding the newcomer!! I think this show is going to evolve into a great show to watch with the family! Just give the show time to develop and see what happens! I for sure will be tuning in to see if the show truly stands out!

…

Expand

First, I absolutely hate the canned laughter. If something's funny, let it stand on it's own. I was hoping for inspired writing, but that

First, I absolutely hate the canned laughter. If something's funny, let it stand on it's own. I was hoping for inspired writing, but that wasn't the case. I was hoping for a modern day reverse "Jeffersons" with beacomparable wit and bite. It didn't happen in this episode. I hope it gets better because the premise is great.

…

Expand

Is it just me or is @TheNeighborhood simply "All In The Family" in reverse? Not very funny in today's world.

I had hopes for this show. I like the performers and there's plenty of potential in the situation. But the show is rife with overly broad

I had hopes for this show. I like the performers and there's plenty of potential in the situation. But the show is rife with overly broad racial humor, and the characters spend more time worrying about each other's attitudes than they do in trying to get to know each other. Disappointing.

…

Expand