Network:

PBS

Series Premiere Date:

Sep 9, 2018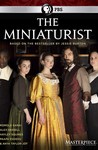 Summary:

The adaptation of Jessie Burton's novel is set in 1686 Amsterdam where 18-year-old Nella Oortman (Anya Taylor-Joy) moves in with her new husband Johannes Brandt (Alex Hassell), who gifts her a dollhouse copy of their home. Nella begins questioning the extra packages of mini furniture and

The adaptation of Jessie Burton's novel is set in 1686 Amsterdam where 18-year-old Nella Oortman (Anya Taylor-Joy) moves in with her new husband Johannes Brandt (Alex Hassell), who gifts her a dollhouse copy of their home. Nella begins questioning the extra packages of mini furniture and life-like dolls from a miniaturist appear to predict future events.

…

Expand

Genre(s):

Drama

,

Suspense
Show Type:

Mini-Series

Season 1 premiere date:

Sep 9, 2018

Episode Length:

60
The three-part period piece has some weaknesses in the final chapter, but it is nonetheless an intriguing story led by a trio of stellar performances.

The cinematography in The Miniaturist imitates a Vermeer masterpiece's interplay between light and shadow, engulfing the action in mesmerizing glow that both augments and glamorizes the weight of what is essentially Petronella's imprisonment. But the real treasure here is Garai's icy meanness, which singlehandedly props up the rigid atmosphere within that grim home.

The Miniaturist may feel raw and green, sometimes naively so, but in its awkward, otherworldly way champions hope and change, and that's rarely a waste of time.

The Miniaturist evokes the Dutch Masters with its moody and dark-hued cinematography. Unfortunately, the story is a bit murky too. [17-30 Sep 2018, p.25]

There are a few really interesting storylines broached casually in the series that would have benefitted from more episodes.

The miniseries feels both overlong and stunted as it lurches between storylines. ... It's a shame that the series never quite gels, given how much it has going for it in terms of story, talent, and the truly spectacular production design and costuming that sets off the on location shoots with such style.
Beatifully filmde, though clearly not in Amsterdam. Goed actors. Bu Why Base the series on an existing family. No one would have lived a life

Beatifully filmde, though clearly not in Amsterdam. Goed actors. Bu Why Base the series on an existing family. No one would have lived a life like theirs. Just make it fatally and don't make the public think that 17th C life's good be like this...

…

Expand