Network:

ABC

Series Premiere Date:

Oct 16, 2018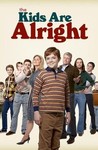 Summary:

Set in the 1970s, Mike (Michael Cudlitz) and Peggy Cleary (Mary McCormack) raise their eight sons in a working-class neighborhood near Los Angeles in this comedy series from Tim Doyle.

Genre(s):

Comedy
Season 1 premiere date:

Oct 16, 2018

Episode Length:

30
Kids Are Alright has some fine, funny lines and also plenty of companion story lines to follow besides Timmy's. It's the best of the fall season's new comedies from a network that's become well-practiced in turning back the clock and making shows like these tick.

If there is nothing formally to distinguish The Kids Are Alright from that mass of American sitcoms, if it is modest in its ambitious and familiar in its beats, it has energy, plenty of well-milled jokes and a fine cast of actors that sit convincingly in their parts from the start. ... What The Kids Are Alright has going for it most of all is McCormack, who makes the most of a role cut to her talents.

All told there's much to like in The Kids Are Alright, partly owing to the era being ripe with possibilities and partly because Doyle's sense of humor about his childhood rings mostly true as it reflects and finds well-earned comedy in nostalgia.

A terribly generic name for a surprisingly distinctive and personal sitcom.

It's good. Showrunner Tim Doyle, the former executive producer of "Last Man Standing," obviously knows his way around big Irish Catholic American families of the late 20th century.

Michael Cudlitz has a few nice moments as gruff but tenderhearted dad Mike, but ultimately, the show isn't funny or heartwarming enough to overcome how familiar it feels.

The kids are a ratty little mob of thieves, snitches, and dissemblers, which can be sporadically amusing. But the plot of the pilot seems likely to be repeated even more often than the money jokes.
Delightful upbeat comedy. Terrific writing, spot on performances, familiar yet really fresh take on another ABC family centric comedy. I

Delightful upbeat comedy. Terrific writing, spot on performances, familiar yet really fresh take on another ABC family centric comedy. I really hope this one will be around for a long time!

…

Expand

The Kids Are Alright is my favorite new comedy of 2018 and one of my favorite new shows of 2018. The cast give stupendous and hilarious

The Kids Are Alright is my favorite new comedy of 2018 and one of my favorite new shows of 2018. The cast give stupendous and hilarious performances especially Mary McCormack and Michael Cudlitz. The writing is hilarious. The time period is great. I really hope it gets renewed.

…

Expand

A surprisingly funny original (as opposed to reboot) series. Very quirky but hilarious (I will be singing "Strasser's Yardwork" for weeks to

A surprisingly funny original (as opposed to reboot) series. Very quirky but hilarious (I will be singing "Strasser's Yardwork" for weeks to come). Only complaint is that the other brothers are not featured enough that we get to know them... though they seem to be working that out slowly.

…

Expand

Unlike the majority of comedy sitcoms that have aired in the past few years, the pros really outweigh the cons for The Kids Are Alright. Mary

Unlike the majority of comedy sitcoms that have aired in the past few years, the pros really outweigh the cons for The Kids Are Alright. Mary McCormack's brilliant role as Peggy is definitely worth a mention. The part seems to suit her tremendously. She has that evil look in her eye. She's deceiving, manipulative and cleverly conniving. She really is the epitome of a true woman who is on a mission to be top b%tch! Unlike most other comedy sitcoms where the writing clearly needs improvement and the performances seem forced and over rehearsed, The Kids Are Alright seems to break those awful barriers, delivering performances so fresh that they look as if they're happening for the first time. I'd also like to give credit to the set designers for their attention to detail in bringing the '70's to life from the actor's wardrobes right down to the furniture and decor of the house. The little things make such a big overall difference. Keep up the good work you guys. Great show, EXCELLENT actors, fantastic writing, direction and set design. I see a lot of potential here and possibly some Emmy worthy performances! The only reason I didn't give this show a 10 is because I'd like to see a little more physical comedy.

…

Expand