Network:

Viceland

Series Premiere Date:

Sep 18, 2018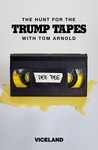 Summary:

Former Celebrity Apprentice contestant Tom Arnold seeks out video tapes rumored to be potentially damaging to Donald Trump.

Genre(s):

Reality
Season 1 premiere date:

Sep 18, 2018

Episode Length:

30
With even bigger talk about finding the Holy Grail (the "pee tape" that so animates the president's enemies), Arnold's haphazard methods can come across as somewhat pathetic. But he more than makes up for it with a wild expression of patriotic determination.

It does what few others in Hollywood or the TV industry have: it demands accountability from "The Apprentice" producer Mark Burnett. ... [But] Arnold's futile endeavor is the true gag.

Arnold's can't-stop-getting-into-political-arguments-with-strangers-on-Facebook energy goes a long way in The Hunt for the Trump Tapes, particularly when he injects some self-aware humor about his status as a has-been. ... When it comes to the purported point of the show, though, Arnold fails to deliver, at least on opening night.

To call Hunt a nothingburger is inadequate. So far, it's more of a nothingbuffet. ... Hunt is at least half a comedy, sending up its star's manic obsession and D-list status. It's good that he has a sense of humor about himself, but after a while this plays like a joke on anyone in the audience who earnestly pinned their hopes on him.

The whole point of Arnold's quest--to unearth more footage of Trump saying horrific, potentially damaging, things--seems a little, well, overdone.

I can nod enthusiastically with Tom Arnold's non-stop indignation, but if his new show was meant to educate me or amuse me, it failed.

Arnold's show is an unpleasant wade through widely-known and speculated-about Trump ephemera, adding little in its first two episodes but the re-emergence of a personality whose frantic need to be in front of the camera makes for painful viewing.