Network:

FOX

Series Premiere Date:

Sep 28, 2018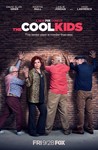 Summary:

Hank (David Alan Grier) and his friends Charlie (Martin Mull) and Sid (Leslie Jordan) love breaking rules at their retirement home, but the arrival of Margaret (Vicki Lawrence) could change things in this comedy from Charlie Day.

Genre(s):

Comedy
Season 1 premiere date:

Sep 28, 2018

Episode Length:

30
In the pilot episode at least, The Cool Kids panders to stereotypes, cliches and tropes and boy, it's a good time.

Created by Charlie Day, one of the producers and stars of the hilariously vulgar and half-witted sitcom It's Always Sunny In Philadelphia , Cool Kids shares its proud tastelessness.

They won't make you double over laughing (or maybe they will--your mileage may vary when it comes to comedy). But what does work here is the effortless ease with which Mull, Grier, Lawrence and Jordan never miss a beat.

It's crass and formulaic, and a lot of the jokes boil down to "Hey, that old guy sure doesn't act old!" But these seasoned sitcom veterans know how to sell a punchline to a live studio audience.

There's ample cringe-worthy bawdiness. ... The diminutive Jordan, speaking in a deep drawl, is something of a scene-stealer, even if it's only petty theft. And Lawrence seems to have a fairly firm handle on her boss lady character.

It's all very broadly played -- to go with its lead-in, "Last Man Standing" -- but raises the question how long lines like "Everybody relax. Act like we have Alzheimer's" are going to prevent the show from facing the TV version of retirement.

An abominable, grating, crass, predictable, and lazy new Fox sitcom.
I don't give a damn what people say this show is histaracal you can't help but laugh at least once I have got a good laugh on Friday for the

I don't give a damn what people say this show is histaracal you can't help but laugh at least once I have got a good laugh on Friday for the past few weeks and I hope it only gets better yes Sid is my personal favorite but I see all of these . lady and gentelman .have their moments at some point I can't stress this enough to give this a try

…

Expand

At 51, life has taught me many things. One of those things is that TV 'critics' are usually wrong. The Cool Kids has to be THE funniest

At 51, life has taught me many things. One of those things is that TV 'critics' are usually wrong. The Cool Kids has to be THE funniest program on TV at the moment. I belly-laughed through the first four episodes and didn't want each episode to end. This show is brilliant. Great comedy, great actors, a fresh situation and some un-PC jokes which are so funny (the world will always be better without PC idiots to spoil comedy). Leslie Jordan is fantastic in his role, as ever.

The timing is great, the three-camera setup is perfect, and the seasoned actors work every line for the live audience; something that lacks in a lot of younger-based comedy. We had gay jokes, black jokes, old people jokes and women and men jokes. Funny, funny stuff to the point of hysterical. Well done! Remember, these are the genre of jokes that used to get viewers watching programmes in the 10s-of-millions years ago. Oh, how we've missed them! If some people can't see that, then they're either too young or too up themselves to be a TV critic.

Please don't change a thing (as viewers we dread that happening when we find something we like), this is absolutely perfect as it is. What a nice change to see a show this funny from the start and not have to take a season to build up to being funny.

Sometimes TV critics need to look at the feedback from actual viewers and wonder, "Am I in the right job?" (Cough-cough... Matthew Gilbert, Boston Globe!) before they attack and kill off the programs that we love

…

Expand

This show is hilarious. I haven't laughed this hard since i started The Big Bang Theory.

The Cool Kids is The Golden Girls of the new millenium. It is amazing the outright hatred by some critics cause it's on Fox especially the CNN

The Cool Kids is The Golden Girls of the new millenium. It is amazing the outright hatred by some critics cause it's on Fox especially the CNN critic. The chemistry is fantastic especially from Vicki Lawrence who shredded has Mama character to her Margaret character. Margaret is a merger of The Golden Girls Blanche and Dorothy.

…

Expand

Excellent cast with far better projects under their belts than The Cool Kids!! The scripts are bad. I've seen better writing in high school

Excellent cast with far better projects under their belts than The Cool Kids!! The scripts are bad. I've seen better writing in high school drama plays! And that phony laugh track sounds incredibly electronically generated and sloppily squeezed in between the show's atrocious dialogue. I feel bad for the show's talented cast. The Cool Kids has to be their worst project yet.

…

Expand

I love the cast, but hate the show. It is insulting to people who are the age these characters portray. Did the creator do any research on

I love the cast, but hate the show. It is insulting to people who are the age these characters portray. Did the creator do any research on "old" people before putting this on the air? My friends and I are that age and we live in our own homes and spend our days working or volunteering in our community. Age these characters up to 85-90 (no need to change the scripts) and you might have something closer to real life. And funny.

…

Expand

Yikes, I wanted to like this show, but it couldn't be more boring or poorly written. This is not a retirement community as they want us to

Yikes, I wanted to like this show, but it couldn't be more boring or poorly written. This is not a retirement community as they want us to believe, but more like "an old folks home." In fact, it's a glorified nursing home. Retirement "homes" don't put you in hallways lined up with individual rooms - again, that is a nursing home! It's really an insult to people 60 and older. A really cool alternative would have been an upscale retirement community of individual homes or condos - with each character in their own domicile (not a ROOM.) And then of course they could meet up in the common areas of their community both indoors and outdoors, invite each other over to their home, etc. Yes, the set/s may cost more to produce, but in the end, it would be a much more believable show - rather than this old folks, nursing home setting. It's actually disturbing to watch. Take this off the air already.

…

Expand