Network:

PBS

Series Premiere Date:

Apr 1, 2018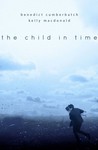 Summary:

Children's book author Stephen Lewis (Benedict Cumberbatch) and his wife, Julie (Kelly Macdonald) try to come to terms with the disappearance of their four-year daughter in this adaptation of Ian McEwan's novel of the same name.

Genre(s):

Drama

,

Movie/Mini-Series
Show Type:

TV Movie

Season 1 premiere date:

Apr 1, 2018

Episode Length:

90
McEwan's theme, exquisitely celebrated in the adaptation by Stephen Butchard, the direction by Julian Farino and enviable performances by Cumberbatch, Macdonald and Moore, especially, is about the nature of childhood itself, about how it becomes subsumed in the quotidian routines of adulthood.

The viewer must go along with Stephen on this strange and intimate journey because only by enduring the torture and confusion can the catharsis occur. There is hope, there is another side for those left behind, and for The Child in Time it is hard won, but builds to this conclusion deliberately and beautifully.

The actors are convincing, honest and heartbreaking. It's the hardest kind of thing to do. They do it splendidly. Director Julian Farino, known mostly for his work on television, can handle actors, it seems, but he's also an exemplar of economic visual storytelling.

The Child in Time's attention to the specific grief of one couple facing a void of the unknown makes it a truly devastating watch that leaves a lasting impact.

Offer(s) Cumberbatch completists a performance that conjures a different sort of quiet magic.

The Child in Time takes some bizarre turns that draw it away from the grief/guilt cycle endemic to the film's premise. There's Stephen's publisher friend (Stephen Campbell Moore) who has a Benjamin Button-style awakening that plays into the theme of childhood. And the film also offers an ending of hope, a welcome if somewhat unbelievable salve on the almost unbearable pain of the program's earliest moments.
This is is really a sad film, poor baby :( But Benedict ia an amazing actor. That pain, that happiness.. All seems really really true.

I usually love Masterpiece productions and Benedict Cumberbatch has a lot of star power now. But this show was eventually disappointing as it

I usually love Masterpiece productions and Benedict Cumberbatch has a lot of star power now. But this show was eventually disappointing as it did not amount to much. The main thread of how parents deal with the loss of a child was done well enough, but without any novelty or fresh insights. Only the good performances from Cumberbatch and Macdonald kept things going. However, the big letdown was the secondary thread of the publisher regressing into childhood -- it wasn't fleshed out enough and felt like a distraction, annoyingly so. When the show ended, I was left wondering what to make of these 90-minutes. PBS usually makes good shows, but this one seems more a vanity project embellished by star power. I suggest staying from it.

…

Expand