Network:

Lifetime

Series Premiere Date:

Sep 9, 2018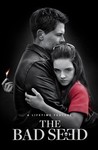 Summary:

After a tragedy at Emma's (Mckenna Grace) school, her father (Rob Lowe) beings to question if his perfect daughter had something to do with it in this remake of the 1956 horror film directed by Lowe.

Genre(s):

Drama

,

Movie/Mini-Series

,

Horror
Show Type:

TV Movie

Season 1 premiere date:

Sep 9, 2018

Episode Length:

120
[Rob Lowe as director] generates a few moments of eerie suspense, and one or two silly-scary scenes produce the right combination of gasps and laughter. He also gets a sturdy, believably perplexed performance from his leading man. Even better is Grace.

This cardboard-cutout quality extends to the dialogue scenes between the adult actors, where Lowe's inexperience as a director really shows. ... The only really convincing acting in the film is in the scenes between Lowe and Grace, a couple of which are compelling enough to almost redeem the film as a whole.

It suffers from being neither dark enough nor campy enough--either choice would have been a lot more enjoyable. But it is stuck in a middle area that is devoid of over-the-top absurdity or any real darkness.

Grace's performance is the only element of the film that seems campy by intent--she is delightful as a tyke who sets a murderous scheme in motion and then kicks back with a juice box. ... A taste for in-jokes may indicate the film's cognizance that it cannot be taken too seriously. ... [Lowe] is merely coasting along as a heartthrob emeritus.