Network:

ABC

Series Premiere Date:

Jun 21, 2018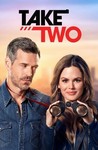 until day of season premiere
Summary:

Former TV cop Sam Swift (Rachel Bilson) seeks a return to her career after a stint in rehab by shadowing private investigator Eddie Valetik (Eddie Cibrian) as research for a potential comeback role in this crime drama from Terri Edda Miller and Andrew W. Marlowe.

Genre(s):

Drama

,

Action & Adventure
Season 1 premiere date:

Jun 21, 2018

Episode Length:

60
Take Two is a light crime procedural that's here to give you some pretty people to look at, some quips to chuckle at and a mystery to solve in a tidy 43 minutes. Nothing more, nothing less. It's weird that something so familiar and formulaic can feel like a breath of fresh air, but here we are.

For fans of darker, soapier TV fare, the light-as-a-feather "Take Two" will be a hard pass, but for a light drama it's entertaining enough, thanks to producers poking fun at TV procedural cliches (while also embracing them) and Ms. Bilson's likable performance.

The trouble with Take Two is with neither the concept, retread though it may be, or the stars. It's the dreadful scripts. The crime-of-the-week stories are like little video Rubik cubes; with a lot of time and effort, you could figure them out, but why bother? And the jokes all tend to revolve around genitalia, including a truly startling number of variations on the old Mae West is-that-a-gun-in-your-pocket routine.