Network:

Starz

Series Premiere Date:

May 6, 2018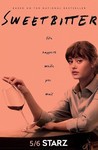 Summary:

22-year old Tess (Ella Purnell) faces the fast-paced world of her new job at an exclusive restaurant in New York City in this adaptation the novel of the same name by series creator Stephanie Danler.

Genre(s):

Drama
Season 1 premiere date:

May 6, 2018

Episode Length:

30
Whether thanks to the absence of those phones or not, there's no missing the ebullience that courses through this splendidly realized drama of ambition, of workplace ties that bind--that brings it roaring spectacularly to life.

If Sweetbitter were longer, I suspect it would lose much of its charm, but six 30-minute episodes is a welcome antidote to the number of television dramas with bloated episode runtimes. Rather than overstay its welcome, it remains fun and breezy.

Sweetbitter has some sensory pleasures, a good cast and better wine (or so we're told). Otherwise occasionally pretentious and ultimately superficial.

Tess rarely whets our appetite as a character intriguing enough to recommend this trial by fire. [30 Apr - 13 May 2018, p.13]

As Season 1 only has handful of episodes, it's fair to say that not enough happens on Sweetbitter to pique our interest for more.

Much more engaging and less tonally punishing than Feed the Beast, but in no way as lively and clever as Kitchen Confidential ... Sweetbitter is occasionally pleasant, but impossibly slight and stuck with a real dud of an over-teased central romance.

Sweetbitter is an insultingly shallow riff on some of the usual sweltering-kitchen tropes.
I just finished watching the first five episodes and I have to adamantly disagree with the critics review. There are about 6 characters and I

I just finished watching the first five episodes and I have to adamantly disagree with the critics review. There are about 6 characters and I loved them all. A collection of New York individuals who come together in their work environment to become a family. A most enjoyable half hour show!

…

Expand