Network:

ABC

Series Premiere Date:

Mar 22, 2018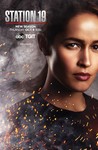 Summary:

The second spinoff of Grey's Anatomy focuses on Seattle Fire Station 19 where Captain Pruitt Herrera (Miguel Sandoval) and his crew of firefighters and EMTs: Andy Herrera (Jaina Lee Ortiz), Dr. Ben Warren (Jason George), Jack Gibson (Grey Damon), Victoria Hughes (Barrett Doss), Ryan Tanner

The second spinoff of Grey's Anatomy focuses on Seattle Fire Station 19 where Captain Pruitt Herrera (Miguel Sandoval) and his crew of firefighters and EMTs: Andy Herrera (Jaina Lee Ortiz), Dr. Ben Warren (Jason George), Jack Gibson (Grey Damon), Victoria Hughes (Barrett Doss), Ryan Tanner (Alberto Frezza), Travis Montgomery (Jay Hayden), Dean Miller (Okieriete Onaodowan), and Maya Bishop (Danielle Savre), work 24-hour shifts.

…

Expand

Genre(s):

Drama
Season 1 premiere date:

Mar 22, 2018

Episode Length:

60
Station 19 offers a distinctly Shondaland twist on the fire station drama, without resorting to the gimmicks of "Scandal," "How to Get Away with Murder," or the latest attempt "For the People." The new drama dials down the heightened emotions and quicksilver banter that are hallmarks of the Rhimes brand for a sturdier, subtler story. ... A cut above the competition.

Showrunner Stacy McKee and co-executive producers Rhimes and Betsy Beers know exactly what they want this series to be from moment to moment.

The workaholic-rom-com notes feel too familiar, but it's worth watching just for Hamilton's Okieriete Onaodowan, who flirts with women by rescuing their cute dogs. [16/23 March 2018, p.104]

19 feels exactly like a Shondaland show, but far more like a crossover than a spinoff. There's perhaps a bigger problem: NBC's "Chicago Fire" already does this show and does it well.

Some of the supporting characters, including Victoria Hughes (Barrett Doss) and Dean Miller (Okieriete Onaodowan), make decent first impressions. But the whole enterprise feels so similar to "Grey's"--co-workers as family, love triangle, heroics on the job--as to be unessential, which programming in the Peak TV era cannot afford to be.

Viewers should feel much more comfortable on this saucier side of Shondaland, where workplace sex and relationships continue unabated by either human-resources departments or social-awareness movements. The strongest feeling from these shows is a stultifying sense of been-there, done-that.

Cringy dialogue. ... The premiere features cameos by Grey's stars Ellen Pompeo and Chandra Wilson, both of whom look as though someone is holding a pistol at their heads just off-camera.
This show is absolutely amazing I feel like im there with them in the fight and idk I just feel like I could hang with all the actors. But

This show is absolutely amazing I feel like im there with them in the fight and idk I just feel like I could hang with all the actors. But really amazing show, keep it up!

…

Expand

Eu quero amar esta série. Eu amo "Grey's Anatomy" há anos. "Station 19" tem uma personagem que nós já conhecemos. Não é nada de novo para nós.

Eu quero amar esta série. Eu amo "Grey's Anatomy" há anos. "Station 19" tem uma personagem que nós já conhecemos. Não é nada de novo para nós. A luta para Capitão entre Andy e Jack é "meh". Honestamente, o enredo, as personagens... tudo é apenas medíocre. O que posso admirar são alguns casos interessantes que aparecem nos episódios.

…

Expand

Here's the thing.. I want to love this show. I love Grey's, and have for years. The thing about Grey's is that it started off in this bright,

Here's the thing.. I want to love this show. I love Grey's, and have for years. The thing about Grey's is that it started off in this bright, shiny new universe with all of these bright, shiny new stars starting their medical careers. Enter Station 19, an established fire station where there's only one new kid, and.. we already know him. You're not giving us anything new. The fight for Captain between Andy and Jack is just.. eh. I don't really care which one wins. And I should care, because otherwise, what's the point? I like Jaina Lee Ortiz, but I don't think she's the right person for this character. Honestly, the only character that I really think has any potential is Ryan Tanner, a cop, who only belongs in this universe because he's the ex boyfriend. He's got more of that "Meredith" spark that I think the people behind this were driving for. The storyline, the characters, everything, honestly.. is just kind of flat lining.

Also, the show is called Station 19. So far the only thing about the station that has been given "life" was the pole in the first episode, and that pole should have been replaced, because the thing looked like it was about to break. Grey's Anatomy centers around a hospital that, at times, has a life of it's own. It's filled with life, to the brim. This show.. lacks that. Going out on calls is not the same as the Grey's cast walking outside the ER waiting for ambulances. That hospital and cast in Grey's have such chemistry together that each new character we meet, can't help but become a star, too. Except Ben Warren.

Why take a character from Grey's that was always in Miranda's shadow, to be the break away from that cast who introduces us to Station 19?

It all just seems very ill thought out. Why would you spend this much money on something so sloppy? Give us that spark. You have to see it's not there. I wonder if the people behind all this are will to introduce new "lead" characters so early on to drive ratings. I think that's the only way to save this show. The concept could be good, but.. the execution poor. The calls are also not believable. Put these people through more responder training or something.

…

Expand

Thought this was supposed to be a story about Ben Warren the doc changing career paths, but that's just a minor subplot. The whole competition

Thought this was supposed to be a story about Ben Warren the doc changing career paths, but that's just a minor subplot. The whole competition to get the captain's slot is ridiculous. Might be good for a distraction, but it is not believable through and through. If I were chief, I'd reassign half of this crew to other stations and get a proven veteran from another house to be the new captain. The action sequences are interesting at times but since the overall plot is based on a weak premise this is little consolation. The season ended with half the cast either in danger or presumably dead just in case salary negotiations go south. Ho-hum!

Addendum: Lowering my score as this gets worse, the longer it runs.

This farce actually got a renewal - it wasn't due to the writing as far as I'm concerned. Wonder if it's more a deal between the creator and the network rather than the actual quality of the show.

…

Expand

I am a retired firefighter and have to say did you even talk to actual firefighters before writing this show. This has to be the worst FF show

I am a retired firefighter and have to say did you even talk to actual firefighters before writing this show. This has to be the worst FF show ever on tv. Nothing is right and totally ridiculous. Firefighters are not allowed to have beards, do you even know why? Officers can't be promoted without a written test. Discussing personal problems while on a rescue call. Engines do not have jack hammers. Civilians do not ride on firefighter vehicles to calls. And total unrealistic dialogues. That's just a few of the problems. Every episode is like a train wreck in actual firefighter world. Maybe you should actually talk to somebody in this profession

…

Expand

I am a retired FF (35 years) I watched the first show and thought it was bad - wanted to give another chance. Middle of the second show, I

I am a retired FF (35 years) I watched the first show and thought it was bad - wanted to give another chance. Middle of the second show, I deleted the entire series from my DVR

Just way too much BS that would never happen. Just to point out one - code 3 to a major fire - what do the 2 ladies up front do - take head phones off one ear and talk about personal BS. When responding to a call code 3 - eyes ON the road and get your head in the game. The capt would have the book or computer out, looking for hyd or building lay out - talking to his FF building a 'Plan'

Just too NOT Real

…

Expand

I expected a lot more from Shondaland. Boring characters, lame story lines, bickering like children and not well researched. Captain has

I expected a lot more from Shondaland. Boring characters, lame story lines, bickering like children and not well researched. Captain has cancer and is undergoing radiation therapy. People get radiation and go to work afterwards. It's not debilitating and it doesn't lower your immune system. Do some research. Good grief.

…

Expand