Network:

ABC

Series Premiere Date:

Mar 27, 2018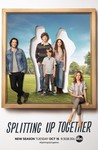 Summary:

Based on a Danish comedy of the same name, after 12 years of marriage Lena (Jenna Fischer) and Martin (Oliver Hudson) divorce but live in the same house with their three kids.

Genre(s):

Comedy
Season 1 premiere date:

Mar 27, 2018

Episode Length:

30
ABC has far more family-driven sitcoms than any of its rivals. Splitting Up Together shows that the network is still finding new ways to make them work just fine.

Splitting Up Together is at its best when it leaves the granular ins and outs of this arrangement for the ways Lena and Martin are dealing with not being a unit anymore.

It's a little concerning, from a sustainability standpoint, that by episode four we've already witnessed one attempt to reconcile the central couple--drawing storylines from the will-they-won't-they well so early in the show's run seems unwise. Martin and Lena's marriage is far less interesting than their individual struggles to figure out why it failed.

There's a thing called chemistry, which is little evident in the first few episodes here. Fischer and Hudson seem fine sparring, but not all that connected.

The show is calculatedly and determinedly, not all that successfully, bending over backwards to not over-assign blame to either party and to make you think that it's sweet the way they're retroactively trying to change and become better spouses to each other in their new living situation.

As romantic comedies go, it's a perfectly durable (if familiar) concept, the problem being that while there's a movie in it, as a series, the teasing-out process feels strained after only a couple episodes.

While there are some funny lines and moments sprinkled throughout the initial four episodes, the first of which debuts Tuesday night on ABC, the characters are pretty one-dimensional and the stakes never seem as high as they should on a show that explores one of life's most stressful events.
I've read the mixed/bad reviews- and I completely disagree. I loved it. I do think they had chemistry- I do think they show what happens in a

I've read the mixed/bad reviews- and I completely disagree. I loved it. I do think they had chemistry- I do think they show what happens in a marriage when the people aren't invested in each other- or stop "making eye contact". I look forward to seeing how they manage. I think it's nice that they fell apart- but don't hate each other. I hope ABC gives the show a chance to find it's place. I can't wait for next week!

…

Expand

I love this show so far and can't wait for the next season. I love the story of making light of people divorcing. The writing and story's bare

I love this show so far and can't wait for the next season. I love the story of making light of people divorcing. The writing and story's bare hilarious. The cast are hilarious and stupendous especially Oliver Hudson and Jenna Fischer.

…

Expand

Some topics just don't make for a episodic show. This is one of them. Like jumbo shrimp, splitting up together is an oxymoron or at best a

Some topics just don't make for a episodic show. This is one of them. Like jumbo shrimp, splitting up together is an oxymoron or at best a paradox. Count me out.

…

Expand