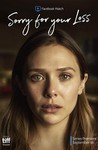 Summary:

Leigh Shaw (Elizabeth Olsen) tries to move on after the sudden death of her husband.

Genre(s):

Drama
Season 1 premiere date:

Sep 18, 2018

Episode Length:

30
Sorry for You Loss plays out a lot like grief itself--it's meandering, unexpected, complicated, dark, occasionally funny, and puts everything around it into sharp relief. It's not what you would expect on Facebook, but it is definitely worth seeking out.

Sorry For Your Loss is a gem of a show. With a cast this impressive--in Olsen, an Avenger; in Tran, a Star Wars alum; in McTeer, a renowned Oscar nominee--a series this well-executed would ordinarily be a marquee entry in the fall TV season.

It's the kind of series that's instantly so fully formed, so funny and candid and wrenching right from the start, that you almost question the emotional propriety of it all.

With the help of some sharp writing, charismatic supporting characters, and Olsen's slyly sympathetic performance, Kit Steinkellner's drama finds a way to portray the reality of grief without letting it overwhelm the show entirely.

The show is smart about the connective tissue of memory and how places or sensory experiences can serve as time machines, making a lie of any suggestion that it's easy to move forward after tragedy. ... This already feels like a show of some worth, even if it requires accepting yet another stream of TV into what is a roaring river.

Some internal conflicts arise, but even those turn repetitive within the first two hours, and the stagnant plot is only magnified by individual character inconsistencies.
Exceptional. Surprising at every turn, wrenching and hilarious and true. For all the challenges Facebook has, this beautiful show is a winner.

Exceptional. Surprising at every turn, wrenching and hilarious and true. For all the challenges Facebook has, this beautiful show is a winner. I hope it goes on and on and on!

…

Expand

Gripping, sad and well acted. I really loved this show as it perfectly embodies the concept of loss and grief. Kudos to Elizabeth Olsen. She

Gripping, sad and well acted. I really loved this show as it perfectly embodies the concept of loss and grief. Kudos to Elizabeth Olsen. She is extraordinary!

…

Expand

Just watched the first two episodes and even the premise seems kinda common, the narrative is pretty good. The cast and direction is amazing

Just watched the first two episodes and even the premise seems kinda common, the narrative is pretty good. The cast and direction is amazing and it has overall great potential. Was not expecting such a good show from Facebook Watch

…

Expand

Wow... this could have been a very good film series. The female acting is very good. But, something went very wrong with the male acting -

Wow... this could have been a very good film series. The female acting is very good. But, something went very wrong with the male acting - even minor, non-recurring roles played be male actors. Avy Kaufman the casting coordinator does excellent work - so, I doubt that it was her fault. The directors are very capable. I'll have to assume it was a situation of where you have a couple of dozen "producers" involved with a project and things just got of of control. Why it was consistently just uncomfortable and awkward male acting - is odd.
The directing seems very good (it is hard to tell just looking at a finished product). The editing was excellent. The script was a little uneven at times - and, I guess a good director and editor maybe would have smoothed that out have they had enough time/money to do so.
*********************************
So I read some reviews by professional critics that really liked this film series. They don't even mention the male actors. It's like the critic watched the first several episodes and didn't even realize that there were male actors in the script. So, I guess I'm missing something.

…

Expand

83 on metacritic! This show fails at creating emotion. This is Us or the latest Jim Carrey show at least managed this. The dialogues utterly

83 on metacritic! This show fails at creating emotion. This is Us or the latest Jim Carrey show at least managed this. The dialogues utterly kill this show
The show is so overwritten that all these verbose exchanges between characters make us think that they are acting like robots, repeating the cliched lines that one expects from someone that is confronted by the grief of someone else's family and not one own's.

Second gripe: Actors. Terrible ham-fisted acting. Olsen is totally miscast and entirely unbelievable as a grieving widow (trying so hard to feel detached, collected for someone who has been a party girl all her life - completely out of character).

Third: All the surroundings are a collection of clichés for the #Metoo crowd (that is the clear customer group targeted by this show), i.e. black husband, adopted Asian sister, single mom running a yoga studio, it's just missing a leading lesbian latino character for good PC measure.
The flashback scenes with the dead husband are excruciating: There is obviously zero chemistry between the two. Friends maybe? Love, give me a break!

…

Expand