Network:

Showtime

Series Premiere Date:

Nov 5, 2017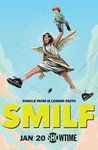 Summary:

Single mother Bridgette (Frankie Shaw) deals with a narcissistic boss (Connie Britton), while her mother (Rosie O'Donnell) deals with issues her own half sister Jackie (Sherie Rene Scott), best friend Eliza (Raven Goodwin) has her own family issues, and her ex Rafi (Miguel Gomez) gets more

Single mother Bridgette (Frankie Shaw) deals with a narcissistic boss (Connie Britton), while her mother (Rosie O'Donnell) deals with issues her own half sister Jackie (Sherie Rene Scott), best friend Eliza (Raven Goodwin) has her own family issues, and her ex Rafi (Miguel Gomez) gets more serious with his girlfriend Nelson Rose (Samara Weaving) in the second season of the comedy from Shaw.

…

Expand

Genre(s):

Comedy
Season 2 premiere date:

Jan 20, 2019

Episode Length:

30
Please enter your birth date to watch this video:
You are not allowed to view this material at this time.
[The second season] is a great improvement, with some of the warmth and cohesion that were missing [from season one]. Shaw and her team seem to be more aware of the themes in play, more deliberate in building the episodes toward emotional peaks instead of letting them float in place as raw, envelope-pushing non sequiturs.

SMILF remains deliciously thorny and droll in season two, even as its impending death knell resounds louder and louder with every disturbing behind-the-scenes revelation.

Season two has moments that are moving, raw, and imaginatively conceived. But sometimes, Shaw tries too aggressively to be edgy or darkly clever. The Weinstein evocations are one example of that.

Shaw struggles to show real-world progress, even if the battlefront is vivid and rich in her imagination. Together, it creates a fitfully effective season; one that intrigues slightly more often than it tires, but there's still too much of the latter.

Judging from the first five episodes the cable network provided, the sophomore season looks to be an upgrade from the first, but Shaw proves to be the least interesting person here. That's not the slam it sounds like. The Brookline native gives her cast juicy material, and they steal the show from her.
Published:

December 11, 2017

Find a full list of nominees in film and television for the 75th Annual Golden Globes to be handed out in January 2018.