Network:

ABC

Series Premiere Date:

Sep 26, 2018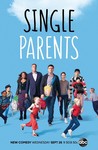 Summary:

Single father Will (Taran Killam) has become so obsessed with PTA and raising his daughter (Marlow Barkley) that a group of single parents that include Angie (Leighton Meester), Douglas (Brad Garrett), Poppy (Kimrie Lewis), and Miggy (Jake Cho), decide something must be done in this comedy

Single father Will (Taran Killam) has become so obsessed with PTA and raising his daughter (Marlow Barkley) that a group of single parents that include Angie (Leighton Meester), Douglas (Brad Garrett), Poppy (Kimrie Lewis), and Miggy (Jake Cho), decide something must be done in this comedy from JJ Philbin and Liz Meriwether.

…

Expand

Genre(s):

Comedy
Season 1 premiere date:

Sep 26, 2018

Episode Length:

30
SNL alum Taran Killam is a riot as Will, a hopelessly dorky single dad who gets taken in by a battle-tested clique of single parents who want to shake him out of his world's-best-dad funk. The kids are cute, the one-liners have plenty of zing and the cast feels like a well-oiled ensemble already.

The sneaky appeal of Single Parents isn't the adults, even though Leighton Meester, Brad Garrett, Jake Choi and Kimrie Lewis are a lot more fun to watch than Killam's flaccid Will. It's the kids. ... The child actors own and deliver each line like well-seasoned comedy pros with masterful timing. All by themselves, they make this sitcom worth checking out.

The kids are more than all right, and the grownups aren't bad either in the new sitcom Single Parents. So maybe ABC has something here. ... The kids so far are stealing the show--and this time it's a pleasure watching them do so.

While Killam is ostensibly the lead, Single Parents teases a promising ensemble comedy that follows its own premise by giving everyone a chance to shine. Meester especially steps up to the plate, showing off the sharp comic timing that she's brought to more dramatic roles throughout her career.

Single Parents...ranges from silly to dumb, and I also don't use that description dismissively. I laughed out loud, a bunch of times, at its jerky, disgruntled moms and dads who love their kids but genuinely want to kill the martinets who run their progressive school like a posse of smiley-faced Nurse Ratcheds.

Though the first episode wobbles in trying to balance the sweet and sentimental stuff with its saltier, funnier edge, Single Parents could become a gem in ABC's family comedy lineup once it sharpens its edges.

Single Parents feels like a comedy that goes for simple snark and believes it's a little more clever than it really is, but then had a bunch of network notes stuck to it about softening those right angles.
Every kid talks like a college educated adult.
Not sure what's going on.
Is this supposed to be a Look Who's Talking fantasy. I like allEvery kid talks like a college educated adult.
Not sure what's going on.
Is this supposed to be a Look Who's Talking fantasy.
I like all the actors involved, but seriously, what the H?

…

Expand