Network:

HBO

Series Premiere Date:

Jul 8, 2018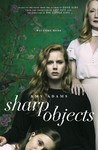 Summary:

St. Louis crime reporter Camille Preaker (Amy Adams) returns to her small Missouri hometown for a story about a murder of a young girl and the disappearance of another only to experience reminders of her past in this eight-part drama based on the novel by Gillian Flynn.

Genre(s):

Drama

,

Movie/Mini-Series
Show Type:

Mini-Series

Season 1 premiere date:

Jul 8, 2018

Episode Length:

60
Sharp Objects turns out to be everything you might have wanted. And also some things you didn't know you wanted: This eight-part HBO miniseries is a scary thriller, a Southern gothic melodrama, a serial-killer murder mystery, and a dual portrait of motherhood and sisterhood--all of it combined with a sleek ease that rarely lets any effort show.

Throughout, Adams is a marvel, giving a performance like an open wound--after the damage has been done, but before it starts to hurt, right before the blood begins to well up.

Adams, with the support of executive producers Flynn, Noxon and Vallée and an extraordinary team of co-stars, makes Sharp Objects use Camille to weave a palpably dark parable about history's impact, and how failing to confront its lasting damage traps us. Grim as this assessment may be, this also makes the drama one of the better offerings on TV right now--not a feel-good summertime story by any means, but one deserving of attention and worth seeing through to the finish.

Whenever Sharp Objects seems to be on the verge of spiraling into contrived pot-boiler absurdity (which is often, particularly in its latter half), the quicksilver filmmaking and Adams's exact and understated lead performance pull it back.

The layered darkness that inhabits Flynn's work is the primary hurdle here, and fans looking for a captivating mystery with Gone Girl's twists and turns will be disappointed. Fortunately, for those willing to soak in the experience, director Jean-Marc Vallée (Big Little Lies, Dallas Buyers Club) allows for the slow burn required to inhabit Flynn's deeply personal corners.

The eight-episode series stretches its mystery to nearly unbearable lengths. ... It's not as dense as Vallee's "Big Little Lies," but it does give its female cast meaty roles to savor. Clarkson gets the biggest slab, but Adams, Perkins, Scanlen and Lillis make the most of theirs. For them, it's an acting banquet. Cut thinner, it might have been prime time prime.

In the #MeToo era, HBO's Sharp Objects will inevitably be proclaimed a work of eloquent female empowerment. It isn't. It's slow, confusing, over-gothed and under-articulated. There's a good story squeaking from underneath all the messy baggage it carries, but it's probably easier to just go to Kmart for another suitcase rather than unpack this thing.
Promising story! The atmosphere is great and i love the relation between characters. Pretty good so far, I'll wait to see where is going this series.

Excellent, Amy Adams in her best character. It shows a tough theme, which many people live, depression, and the lack of confidence generated

Excellent, Amy Adams in her best character. It shows a tough theme, which many people live, depression, and the lack of confidence generated by a childhood suffered.

…

Expand

Too many flashbacks suppress the pacing of the series giving each episode more of a plodding feeling than is necessary, but Amy Adams does a

Too many flashbacks suppress the pacing of the series giving each episode more of a plodding feeling than is necessary, but Amy Adams does a typically flawless job carrying each scene and pushing this gritty drama forward.

…

Expand

I am really getting very very tired of cliche scenes and the back and forth relapsed time travel, which has already been complained about in

I am really getting very very tired of cliche scenes and the back and forth relapsed time travel, which has already been complained about in some reviews here. Great actors that are indeed wasted with naive and dumb writers and producers who seem to not have a very realistic understanding of crime stories. I think Hollywood is infested with naive, "overly imaginative" idiots who ruin it for the rest of us as consumers. Grow up and understand what real crime situations can involve and enough with the cutting scenes....so unrealistic ...especially after the protag sees an incapacitated young girl with blood everywhere. It's pretentious and annoying.

…

Expand

I typically love the characters Amy Adams portrays but not in this slow-paced murder mystery. She plays Camille Preaker, a nearly washed up,

I typically love the characters Amy Adams portrays but not in this slow-paced murder mystery. She plays Camille Preaker, a nearly washed up, alcoholic, cigarette addicted newshound in St Louis running down a missing girl report in tiny (pop: 2000) Wind Gap, her hometown. So we're off to a bad start already. When she reluctantly arrives in town, she immediately pisses off the beat down police chief, then the next day comes across three teen girls in a park where she's going to join a search. She acknowledges the teens' impressive rumor machine that they already knew who she was but she whiffs the opportunity to pump the gossiping teens for any backstory on the recent young girl murder or the missing girl. That's just poor writing, poor storytelling, and all this is only in episode one, ep two hasn't even played yet. There's all these cutaways, flashbacks, too, to her childhood there and that's irritating. The atmospherics are dark, moody, seedy, backwoodsy with little accompanying/transitioning music which is 1940s-ish when it's there at all. Such an environment is going to appeal to very, very few people. I expected so much more from Marti Noxon who brought us the edgy, fast-paced "UnREAL" series, oh well, one less show to follow.

…

Expand

I really wanted to like this show as it sounded so promising and because it stars Amy Adams but three episodes in I can't take it anymore. It

I really wanted to like this show as it sounded so promising and because it stars Amy Adams but three episodes in I can't take it anymore. It is so SLOW and basically boring. And I'm so tired of endless, torturous flashbacks that keep disrupting the narrative. For those who love watching nothing happening apart from Adams driving around town drunk listening to Led Zep, go for it.

…

Expand

I really wanted to like this show (since HBO is known for "Good TV") so I sorta forced myself thru Eps 2 & 3, hoping for this show to turn the

I really wanted to like this show (since HBO is known for "Good TV") so I sorta forced myself thru Eps 2 & 3, hoping for this show to turn the corner and get on with itself, except it NEVER does....It just keeps dwelling on the main character over and over again. Fine, we get it, we know she's an alcohol, with deep emotional issues tied to her childhood, growing up in her hometown, how many times do we need to be bombarded with it..? We know small towns can be boring with nothing to do, it's a cliche that is being forced down our throats, glacially. To say this show is BORING would be an understatement. I would much rather sit and watch 2 flies *** !!!

…

Expand