Network:

Netflix

Series Premiere Date:

Jan 11, 2019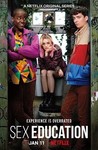 Summary:

16-year-old Otis Milburn (Asa Butterfield) decides to form a sex therapy clinic with "bad girl" Maeve (Emma Mackey) after it is revealed his mother (Gillian Anderson) is a sex therapist in this dramedy created by Laurie Nunn.

Genre(s):

Comedy

,

Drama
Season 1 premiere date:

Jan 11, 2019

Episode Length:

60
The shining through line of Sex Education is the dedication to both the physical and emotional messiness of sex.

Sex Education blends teen sex-romp tropes with a refreshing level of empathy. [11 Jan 2019, p.44]

The series strains at first to establish the procedural format: a little bit "Masters of Sex," a little bit "Doogie Howser, XXX." But it blooms, over eight episodes, into a smart, sensitive look at teens finding their place and figuring out the owner's manuals for their bodies.

Sex Education won't be for everybody. The humor is often very dark, the awkwardness so cringe-inducing it can be difficult to watch. But like a well-meaning teen therapist, its intentions are so good that it's difficult to hold much against the series. Like a generous partner, it's willing to experiment and find a balance that works. And like sex--like good sex anyway--it's often an absolute pleasure.

There's so much more than the vast majority of those teen comedies ever truly touch, and so it's wonderfully refreshing to watch Sex Education address these more specific questions on-screen with such care and humor.

Under Nunn and directors Ben Taylor and Kate Herron (each of whom helm four episodes), this is a series that modernizes the genre to embrace every kind of kid--the sportos, the motorheads, geeks, sluts, waistoids, dweebies, dickheads, all of 'em!--and without pandering to any singular point of view in doing so.

It's a far-fetched premise: Can you imagine anyone in high school, where gossip is a commodity and kids are desperate to look more experienced than they really are, paying to confess their sexual dysfunctions to a peer? Yet Sex Education earns the suspension of disbelief it requires. Populated by multidimensional characters with sympathetic problems, the show embodies–and espouses–some of TV's most progressive views on sex.
One of the best presented comedy dramas I have ever watched. Presents so many themes in a healthy and fun way.

The show has plenty of snarky wit sprinkled all over each episode. Even at its lamest, cliche moments, this quirky show remains quaintly

The show has plenty of snarky wit sprinkled all over each episode. Even at its lamest, cliche moments, this quirky show remains quaintly entertaining. The morality lessons are mostly skin deep and copy/paste though. Some even backfire if you think about it. Ex: man says he's inspired by a brave boy owning/showing his fabulous true self. So the man also shows his own true self by... losing his temper and yelling? So what is the writer implying about this african immigrant's true self contrary to his normally tempered, wise, calm, gentleman demeanor?

…

Expand

I have watched a lot of tv and movies in my life and I honestly think that this the best and most relatable coming of age show that I've ever seen.

Well, i'm really surprised about this. I expected it to be the classic American Pie like teen comedy, but no, it isn't. It's easily one if the

Well, i'm really surprised about this. I expected it to be the classic American Pie like teen comedy, but no, it isn't. It's easily one if the best series (if not the best) that i watched in a while, i think i could even watch it again, and i never do this with any TV series. This show has really everything, it makes you laugh, but at the same time it makes you cry and reflect about love and friendship, expecially if you're a teenager like me. Also it doesn't have all the classic cliches of this kind of shows, for example "the other guy" is not a douche but is actually a good guy (i really liked this thing). I reccomend it fo all the teenagers, you will surely like it, but i think this is suitable even for adult people.

…

Expand

A story about a boy who's never had sex, but gives sex therapy to his fellow high school students? A wild concept, but it's executed very,

A story about a boy who's never had sex, but gives sex therapy to his fellow high school students? A wild concept, but it's executed very, very well. Sure, a lot of the tropes that are explored in the first season are common in teen romance/drama shows, but the addition of sex therapy adds enough of something different to separate it from your typical teen show. A highly enjoyable eight episodes.

…

Expand

Encouraged by a fellow student awkward high-schooler Otis begins to offer extra-curricular sex advice and education to his peers putting into

Encouraged by a fellow student awkward high-schooler Otis begins to offer extra-curricular sex advice and education to his peers putting into practice everything he has learned from his sex therapist mother.

Sex Education can often be tonally inconsistent, and I have no idea when or where it is supposed to be set, but the cast of characters did grow on me throughout this first season and it's pretty funny in places as well. It's not up there with the best drama or comedy series of recent years but as long as you're not the prudish type it's worth a watch.

…

Expand

Someone explain to me why is this **** so popular. Otis is a moronic dip**** and Maeve is the most unlikable jerk I've ever seen. It's not

Someone explain to me why is this **** so popular. Otis is a moronic dip**** and Maeve is the most unlikable jerk I've ever seen. It's not because she has a 'personality', which actually is the stereotypical 'I'm a jerk because I've suffered', it's simply because she's an **** Support characters are either stereotypical ****s or the 'aha! gotcha, you got it wrong' characters.

Seriously, why is this crap so popular?

…

Expand