Network:

Netflix

Series Premiere Date:

Jul 6, 2018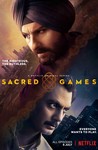 Summary:

Mumbai police officer Sartaj Singh (Saif Ali Khan) is contacted by a thought-to-be-dead-gangster Ganesh Gaitonde (Nawazuddin Siddiqui) and told he has 25 days to save everyone in Mumbai from death in this India drama based on the book by Vikram Chandra.

Genre(s):

Drama

,

Suspense
Season 1 premiere date:

Jul 6, 2018

Episode Length:

60
Sacred Games has enough going for it to be considered a strong start. And for those who haven't sampled the impressive depth on Netflix's international TV series bench, Sacred Games provides the kind of intriguing thrills found in the best of those offerings--a worldly mise-en-scene that depicts something familiar but with unique local twists.

Energetic and entertaining, if not entirely satisfying (four of eight episodes were available for review), it toggles between stylized melodrama and loose-limbed satire--hewing, perhaps a little too closely, to the structure of Mr. Chandra's sprawling novel.

There's beauty in the way that all of this sinister intrigue is conveyed, but it's a surface-level telling of a story that wants to have so much more in its grasp.
There are very few series that captivates you starting from the first scene of first episode to the last scene of the last episode.

ThatThere are very few series that captivates you starting from the first scene of first episode to the last scene of the last episode.

That said, the series surpasses the expectations, with superb acting, starcast, background score, story, music, and rest of all, nawaz.

Capturing the moments of India starting from 70s to 2017 is not an easy task, whereas acknowledging all the political and society drama that happened, almost across the country - Emergency, Government Collapse, Corruption Scandals, Mumbai Underworld, Drug Mafia, Shootout, Gang Rivalries, Aristocracies on Women, etc., all shifting and twisting around smoothly within one story line.

One would find herself/ himself on the edge of the seat on almost every scene.

Hats-off - One of the best series of Netflix.

…

Expand

From the 70s to 2018,the show captured everything significant that happened in Mumbai in a nutshell. The casting, how the pieces of the puzzle

From the 70s to 2018,the show captured everything significant that happened in Mumbai in a nutshell. The casting, how the pieces of the puzzle join, the show is genius!

…

Expand

This could definitely be India's first web-series which explores the potential of Directors, Actors and above all the story tellers. The plot

This could definitely be India's first web-series which explores the potential of Directors, Actors and above all the story tellers. The plot has enough thrill and drama to give a Binge worthy experience. The dark underworld of Mumbai has been explored several a times in the past, but no movie under the censorship of India could accommodate this much surprises and detailed characters. Saif fits in his toned down police inspector role. It is a crime drama with Indian setting which is ready to blow your mind in every episode.

…

Expand

Tightly scripted and great story telling. Great performances by everyone. Awaiting anxiously for next season.

While the series falter in the character development of the supporting cast, the overall plot intrigue still had me hooked.
The characterWhile the series falter in the character development of the supporting cast, the overall plot intrigue still had me hooked.
The character work by Saif and Navaaz was exemplary.
The looming threat of an impending doomsday already has me craving for season 2

…

Expand