Series Premiere Date:

Jul 30, 2018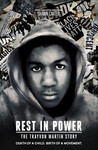 Summary:

The six-part documentary series features home videos, family photos, and news footage about the life of 17-year-old Trayvon Martin, who was killed in 2012 and the rise of the Black Lives Matter movement.

Genre(s):

Movie/Mini-Series

,

News/Documentary

,

Documentary
Show Type:

Mini-Series

Season 1 premiere date:

Jul 30, 2018

Episode Length:

60
You may think you know the story, but the accumulation of detail, in new interviews and video and audio clips in this six-part documentary from producer Shawn Carter (also known to the world as musician and mogul Jay-Z), begins like a light snow fall and turns into a bracing nor'easter.

A potent, moving six-part documentary offering fresh insight into the 2012 killing of unarmed teen Martin by 28-year-old vigilante George Zimmerman. ... It's the way in which directors Jenner Furst and Julia Willoughby Nason connect new and old details of the case with its wide-spread effect that makes Rest in Power a comprehensive, emotional and brutally honest look at America since that fatal shooting.

Gutting. ... Rest in Power is more than just a record of Martin's brief life and shocking death: It's a call to action. Furst and Willoughby Nason's work is an overwhelming collage of interviews, audio recordings and video footage, expertly stitched together to tell the story of a Skittles-carrying black teenager who was confronted by a paranoid neighborhood watchman and shot during their altercation.

It's all far too much to cover in 44 minutes, and the last episode of Rest in Power feels like a conversation that gets cut off mid-sentence. What started as an effort to record a moment in history became, by the end, a documentary of the moment we're living now. If ever a series had enough material for a second season, sadly this is it.

Rest in Power is a representative collage. A turning point in some ways, a reminder of what hasn't changed in others, it's a time capsule for a country where this could not only happen, but happen again.

The series, directed by Jenner Furst and Julia Willoughby Nason and produced by Jay-Z, doesn't add much new information to the existing narrative. It doesn't need to. Instead, it takes a heartbreaking, in-depth look at the shooting more than six years later—and the state of race relations in America today.
The best efforts are made to portray the story of Trayvon Martin accurately and without any bias in either direction. Excellent portrayal of a

The best efforts are made to portray the story of Trayvon Martin accurately and without any bias in either direction. Excellent portrayal of a young man who had his life taken from him, all for the crime of walking thru a neighborhood of a trigger happy wanna be law man.

…

Expand

A Skittles-carrying black teenager who had every right to be where he was and doing nothing wrong was racially profiled, reported as

A Skittles-carrying black teenager who had every right to be where he was and doing nothing wrong was racially profiled, reported as "suspicious" and "on drugs ors something" and "something wrong with him", referred to as an "as*hole", a "punk" who tried to run to safety but was pursued and confronted by a paranoid, gun carrying, vigilante who was given the right under a sad legacy by NRA loving Jeb Bush to do so and successfully claim self defence. It was Trayvon who was defending himself when he hit Zimmerman. "Can you imagine if Trayvon was a white kid?" A powerful and vital documentary about the tragic loss of innocent life that has led to one of the most important civil rights movements of this generation.

…

Expand

Brilliantly executed documentary series detailing the state of race relations in the US. I can only assume the negative (user) ratings are

Brilliantly executed documentary series detailing the state of race relations in the US. I can only assume the negative (user) ratings are from friends of George Zimmerman or racist internet trolls who haven't even seen any part of the series. Go watch Fox News and leave the review sites to people who actually watch the shows and are capable of seeing the world in terms beyond black and white.

…

Expand

Exactly what you would expect from a "black lives matter" like prospective on the events sorrounding the Martin/Zimmerman situation. It was

Exactly what you would expect from a "black lives matter" like prospective on the events sorrounding the Martin/Zimmerman situation. It was well produced however extremely biased. If you're a BLM supporter you will love it. If you're not you will more than likely see this as a propodanga piece for the BLM.

…

Expand

Now a thug is a hero? Pure garbage BLM propaganda trying to keep black people as moral slaves from white Democrats. Disgusting.

Much like the media coverage of this event, this series is a complete and total distortion and fabrication of the actual events that took

Much like the media coverage of this event, this series is a complete and total distortion and fabrication of the actual events that took place that evening. If you are interested in learning anything about what happened, watch the trial, not this.

…

Expand

While this Series is expertly produced and visually very appealing, it does not claim to be fiction but a documentary, and thus gets a failing

While this Series is expertly produced and visually very appealing, it does not claim to be fiction but a documentary, and thus gets a failing grade for presenting serious bias, distortions of facts, and outright lies. It is as one sided as one can get while pretending not to be. I would definitely watch the entire trial instead to get a better idea of what happened.

…

Expand