Network:

FOX

Series Premiere Date:

Jan 27, 2019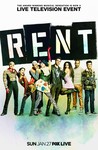 Summary:

Jonathan Larson's award-winning musical re-imagining of Puccini's "La Bohème" set in New York City is the latest show to become a live TV musical for Fox.

Genre(s):

Drama

,

Events & Specials

,

Music
Show Type:

Special

Season 1 premiere date:

Jan 27, 2019

Episode Length:

180
Rent: Live To Tape did what these live musicals are supposed to do—reimagine a beloved musical with a new aesthetic, new performers, and new staging choices.

The performances were solid and the in-your-face direction was what something like this needed. ... While Fox's "RENT" was a bit too sanitized for its own good, it had the right people in the key roles, particularly Jordan Fisher, who, as Mark, served as the tour guide through the past, the heartache and, most of all, the brilliance of writer Jonathan Larson.

Lots to enjoy--and yet, there was something a bit remote about this Rent. The imaginative staging of the first act dwindled away until the writhing under the sheets during "Contact" was about as evocative as a CENSORED bar.

It feels a bit weird to critique what was almost entirely a recorded dress rehearsal. How do you measure three hours of chaotic visuals and middling audio most of us were never meant to see and hear? Mostly in disappointment, I guess, though this is what Fox gave us.

The resulting Frankenstein's monster of a production didn't fare well, especially during its first half. ... Jordan Fisher proved to be a reliable narrator, giving a spunky if unassuming performance as Mark Cohen. Meanwhile, R&B singer Tinashe gave a forcefully physical performance as the AIDS-stricken junkie and exotic dancer Mimi Márquez. But the show's energy often bordered on lethargic, feeling like the dress rehearsal it was. That is, until Vanessa Hudgens [...] gave a thrilling and shameless portrayal of Maureen, who struck the stage like a bolt of lighting, shocking everyone around her into life as the first act concluded and leading to a much livelier second act.

The dress rehearsal was rough in many spots. The camera work at times was manic, punctuated by the stray stagehand ducking for cover. It also suffered from a huge distraction--the audience. ... Hudgens brought mad energy to her part. Valentina as the doomed Angel was affecting and downright kicky on "Today 4 U." Brandon Victor Dixon, the scene-stealer from last year's "Jesus Christ Superstar," didn't find his footing until late in the show. Others in the cast seemed drawn from a community theater production.

Its rage ("we're dying in America at the end of the millennium") and its love ("live in my house, I'll be your shelter") could have given us renewed energy and hope during a long, troubled winter. Instead, due to production mishaps that could have been avoided and were then poorly handled, it barely got to make a sound.