Network:

Cinemax

Series Premiere Date:

Apr 13, 2018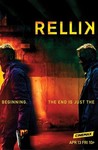 Summary:

The six-part crime thriller from Harry and Jack Williams begins a murder suspect killed by a police sniper and scarred DCI Gabriel Markham (Richard Dormer) finding a crucial clue to a murder and works backwards to the beginning of the case.

Genre(s):

Drama

,

Suspense
Season 1 premiere date:

Apr 13, 2018

Episode Length:

60
Though the reverse, choppy storytelling can be dizzying at times, the pace at which the mystery unravels with palpable suspense and emotion leaves you as eager to solve the crime as the police. [6/13 Apr 2018, p.85]

It's a show that works too hard to compensate for the potential disadvantages its storytelling setup brings. ... Rellik may not be the perfect murder, but it's one that as it unfolds, is worth at least keeping an eye on.

The biggest problem with Rellik is that if it were told in regular linear style, it would only be notable for its unrelenting bleakness. Whodunit becomes when-is-it in a limited series that ends up as just another ydoolb ssem [bloody mess]. [16 Apr - 29 Apr 2018, p.13]

The frustration comes when the attention you're required to pay isn't validated by the results and revelations. The big twist of the season is distressingly easy to guess and I think it's supposed to be, but the explanation for it is so convoluted you can't possibly guess it without an episode-long exposition download.

It's another case of a show that wouldn't really work without its high concept, and the desperation its writers display reveals an awareness of that fact that sinks it.
A plot we've seen before, but revealed in an unusual way. The first episode in particular is quite disorientating until you realise how the

A plot we've seen before, but revealed in an unusual way. The first episode in particular is quite disorientating until you realise how the story is being told. However, if you stick with it you are rewarded with a fresh, innovative approach to traditional crime drama. Definitely worth your time.

…

Expand

I attempted to watch this when it was first shown on the BBC awhile ago. Only managed to get halfway through as I could not lose any more of

I attempted to watch this when it was first shown on the BBC awhile ago. Only managed to get halfway through as I could not lose any more of my like to this. I don't mind bleak which this is. Its just a very thin story that that has been messed with due to the telling the story backwards and this gimmick does not work. Terrible.

…

Expand