Network:

FOX

Series Premiere Date:

Sep 9, 2018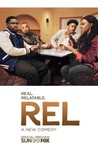 Summary:

Lil Rel (Lil Rel Howery) is ready to start dating and restarting his life with the help of his best friend (Jess "Hilarious" Moore), his younger brother (Jordan L. Jones) and his father (Sinbad), after divorcing his wife for having an affair with his barber and his kids moving to Cleveland

Lil Rel (Lil Rel Howery) is ready to start dating and restarting his life with the help of his best friend (Jess "Hilarious" Moore), his younger brother (Jordan L. Jones) and his father (Sinbad), after divorcing his wife for having an affair with his barber and his kids moving to Cleveland with his now ex-wife in this comedy inspired by Lil Rel Howery's life.

…

Expand

Genre(s):

Comedy
Season 1 premiere date:

Sep 9, 2018

Episode Length:

30
Even though Howery is saddled with having to be the standard sitcom protagonist around which the rest of the show revolves, it still offers him a chance to indulge in the crowd-pleasing charms that made him a "Get Out" breakout.

There are occasional glimpses of "Seinfeld"-style humor. ... But the pilot is neither as funny as that NBC classic nor as topical as "The Carmichael Show."

It's a big, sometimes over-the-top sitcom like Good Times, The Jeffersons or the other black comedies that dominated the Nielsen ratings for much of the 1970s. But its ambitions to be something more are sadly unfulfilled.

The generalities are in place for a workable comedy. It's the specifics that are often hacky and generally unfunny, yet they're frequently rewarded by what feels like a surplus of audience approval, which always ends up being one of the elements that make multicam haters cringe.

Likable lead and cast, but Rel otherwise feels like a tepid, tame commercial network sitcom.

The whole thing comes off as uncomfortably clownish and insulting to viewers of any color, let alone African-Americans who have every right to cringe at such off-putting, clownish portrayals in times when FX's immeasurably superior Atlanta has charted such bold new territory.
WOW!!! REL is Hilarious!!! The cast is funny and real!. The content is authentic real-world stuff and funny as heck. Me and my family of 5

WOW!!! REL is Hilarious!!! The cast is funny and real!. The content is authentic real-world stuff and funny as heck. Me and my family of 5 have not missed an episode! Keep it coming! SINBAD as Malcolm X was too funny!!! Can't wait to see what's next!

…

Expand

splicing a racist black show in between some established animated shows is a joke at best, but the show itself is not just unfunny, but its

splicing a racist black show in between some established animated shows is a joke at best, but the show itself is not just unfunny, but its just downright boring. Comon FOX you can do waaay better then this.

…

Expand