Network:

HBO

Series Premiere Date:

Aug 3, 2018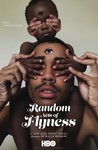 Summary:

The late-night show from Terence Nance will feature a variety of vignettes that include "vérité documentary, musical performances, surrealist melodrama and humorous animation" to explore American culture through a range of topics such as death, history, patriarchy, police brutality, romance,

The late-night show from Terence Nance will feature a variety of vignettes that include "vérité documentary, musical performances, surrealist melodrama and humorous animation" to explore American culture through a range of topics such as death, history, patriarchy, police brutality, romance, and white supremacy.

…

Expand

Genre(s):

Comedy

,

Variety Shows

,

Talk & Interview
Season 1 premiere date:

Aug 3, 2018

Episode Length:

30
Passionately inventive. ... He invents original, yet nonetheless personal, ways of relating collective stories. ... It's also a work of meticulous composition that highlights the imaginative astonishments, political perspectives, and personal insights that are unleashed by the cinema's technical power. Nance's definitive display of effects-driven political fantasy comes in another masterstroke that's too good to spoil; let me just add--keep watching to the end of the end credits.

HBO's Random Acts of Flyness is like almost nothing you've seen on TV before. ... It switches nimbly between documentary, animation, music and short film to try to capture a reality for which fiction and nonfiction alone are insufficient.

Its meanings are sometimes obscure and sometimes obvious, nearly to the point of being polemical, and most often somewhere in between. But its surfaces are always interesting and splendidly executed. Even the glitches are artfully placed.

The Inception-style meta framing of the show as one featuring Nance being acted by Nance and written and edited and directed by Nance can taste like the particular brand of cheeky self-indulgence favored by film-school art projects, but fortunately it never dips too far in that direction. ... Untethered by genre labels or traditional television formats, Nance's show translates as something with roots in entertainment television, art house movies, and journalism--an experimental trip into blackness fly enough to post up in a modern-art museum.

At first, the protean barrage of imagery and gonzo sound design overwhelms the senses. Once your brain gets used to its staccato rhythm, however, you settle in for the ride. Although I couldn't quite process all the nuances within the moment, I still found myself nodding along (and even dancing along) all the same.

There's so much to look at and feel while watching this show that it can sometimes be overwhelming--which, of course, is the entire point. It can be chaotic as it careens from one thought or medium to another, but it's never random.

It's highly attuned to wide-ranging stylistic experimentation, but lacks the necessary emotional heft and nuance to tackle such topics like the weight of bringing black children into a world that is hostile toward them.
This review contains spoilers

, click expand to view

.

Creative, dark, disturbing, illuminating, and occasionally hilarious. The editing and use of various techniques pays tribute to webcasts and low budget kids programming from the 80's-00's. The only weak point was the unfortunately long and mostly pointless segment on sexuality. The message was lost somehow.

…

Expand

While I am liberal politically, the politics in this are extreme to the point of being hateful towards people who aren't black and even

While I am liberal politically, the politics in this are extreme to the point of being hateful towards people who aren't black and even advocating violence/revolution at times. This is the kind of thing that would be declared hate speech if it was made by anyone other than a black person. Even worse than its reactionary politics is that it is just not entertaining or funny. I didn't laugh at all after trying to watch 2 episodes.

…

Expand

I watched the entire first episode on youtube and I have to say that this show achieved levels of racism I didn't think possible before.