Network:

Prime Video

Series Premiere Date:

May 25, 2018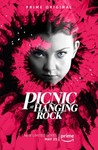 Summary:

The disappearance of three girls and a teacher from the Appleyard Ladies College in 1900 leads to an investigation that includes English headmistress Mrs Hester Appleyard (Natalie Dormer) in this drama series based on the Australian novel by Joan Lindsay and inspired by Peter Weir's 1975

The disappearance of three girls and a teacher from the Appleyard Ladies College in 1900 leads to an investigation that includes English headmistress Mrs Hester Appleyard (Natalie Dormer) in this drama series based on the Australian novel by Joan Lindsay and inspired by Peter Weir's 1975 film of the same name.

…

Expand

Genre(s):

Drama

,

Movie/Mini-Series
Show Type:

Mini-Series

Season 1 premiere date:

May 25, 2018
Picnic at Hanging Rock is lush, gorgeous, Gothic and at times plotted tighter than a corset.

The mystical elements of Lindsay's book remain, but Mrs. Appleyard's more detailed biography adds more tangible, flesh-and-blood danger to the mix. ... The question in the series becomes less about how the girls disappeared than why. Whether they're vaporized by a shift in the magnetic field, transformed into animals, or something more mundane, their vanishing feels deliberate--a way to reject their prescribed futures for a different, freer path.

Picnic at Hanging Rock is the sapphic, David Lynch-influenced mystery-thriller that you didn't know you needed.

It's a lot, but it's the right kind of a lot, and like Dormer's performance, these choices skirt right up to the line of the ridiculous without ever crossing over. Had the writers and directors of this series been better at walking that line, Picnic At Hanging Rock might be more than a decent series with rich production values and a performance that blows the doors down.

Picnic at Hanging Rock is a project that works better at the length of a feature film than a six-hour series. In the mid-section of the season, scenes start to feel overheated, as if the producers are worried that you're starting to get bored (you probably are). Memorable performances and solid production values just don't matter if a narrative sags.

In the end, neither the lush looks nor committed performances are enough to overcome the balance issues and general bloat.

Kondracki's portrait of these girls is at once too sketchy to make them three-dimensional, and yet too literal to make them beguiling--which makes them come across as grating bores. ... There's almost no reason for this version to exist.
It was hard for me to decide on a score for this mini-series. It certainly is beautiful to watch with gorgeous sets and costumes and great

It was hard for me to decide on a score for this mini-series. It certainly is beautiful to watch with gorgeous sets and costumes and great cinematography. However, the story is too drawn out over six episodes and thus dilutes the dramatic impact that was so well-achieved in the Peter Weir movie. Consequently, I decided on a 7. It is worth seeing if only for the visuals.

…

Expand

Nope. If you're going to take on an important novel and arguably the seminal film of the Australian New Wave, you better show up and

Nope. If you're going to take on an important novel and arguably the seminal film of the Australian New Wave, you better show up and represent. This series is an unwieldy mess. There are so many flashbacks it was literally difficult to figure out which time frame (pre, during, post picnic) you are watching. The actors are fine but also unremarkable. However, the plethora of characters get a fair amount of dialog and screen time, but very little of it helps move the plot along in any sort of compelling direction.

The reality is that the correct visual medium of this story is as a film. And good luck besting one of the great directors (Australian or otherwise) in Peter Weir. Too much of this series is dull filler. The fascinating and haunting conceit of the story is that these young girls disappear into the mysterious and ancient Australian wilderness in the age of Victorian repression, sexual and otherwise. Their awakening from the picnic nap and disappearance is a metaphor for a seduction and a loss of innocence. Just leave it at that.

Also, I can't help but notice from some of the language in the crtitics' reviews that there is a lingering perception that the Joan Lindsay novel is a fictional retelling of real events from Valentine's Day 1900 in Victoria. It most surely is not. Didn't happen. The author cleverly submerges fictional newspaper accounts to draw the reader in.

…

Expand

Beautiful costumes and settings, talented cast and a great novel - this adaptation should be a must see, but the episodes are like watching

Beautiful costumes and settings, talented cast and a great novel - this adaptation should be a must see, but the episodes are like watching paint dry. I found myself pushing fast forward to see if anything interesting would happen.

…

Expand