Network:

Netflix

Series Premiere Date:

Oct 28, 2018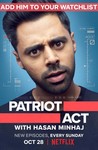 Summary:

The Daily Show correspondent is the latest alumni to host his own weekly comedy series.

Genre(s):

Comedy
Season 1 premiere date:

Oct 28, 2018
Patriot Act, an appealing comedy-talk show hybrid from longtime collaborators Hasan Minhaj and Prashanth Venkataramanujam, isn't going to singlehandedly swing things Netflix's way, but it is the streamer's best offering yet in the genre. ... The result is an engrossing mix of deep dives, personal asides, and current events, all delivered with Minhaj's winning aplomb.

The result is bracing, funny, informative, and occasionally, like Last Week Tonight, a little dry. But it's homework that you wanna do, even if you never forget that it's ultimately an assignment. I don't consider that description a knock on the show.

In the second episode, he refers to his show jokingly as "a woke TED Talk" and that gets it pretty right, except this woke TED Talk is not only informative and incisive, but funny.

He never sits behind a desk, as he often did as a correspondent on "The Daily Show." Instead, he stands and gestures, cajoles and emphasizes, straight to camera. This doesn't always work. ... But it is different, and in an otherwise crowded field, that matters. As for content and format, Patriot Act has thus far made a couple smart and pointed choices. ... Neither of Patriot Act's first two episodes are necessarily tied to the events of the week that preceded them, but they still feel timely.
I got to see the live taping and the audience loved it! He had really good stage presence and kept us engaged the whole time. I think he has a

I got to see the live taping and the audience loved it! He had really good stage presence and kept us engaged the whole time. I think he has a cool perspective and style of delivery that resonates well with young people. I just hope the field isn't too crowded already and he can stand out. Not focusing daily headlines and Trump tweets definitely helps!

…

Expand

The show is funny, informative and engaging. Looking forward to the next episodes.

I'm sure I'm biased, but as a brown Muslim man I find this show to be the most relatable talk show on TV. (I also did go to his stand-up

I'm sure I'm biased, but as a brown Muslim man I find this show to be the most relatable talk show on TV. (I also did go to his stand-up show.) I understand how someone who is not brown and/or Muslim would be less able to relate to it though. I look forward to this show every week.

…

Expand

Possibly the best political comedy show since the departure of Jon Stewart. Where these shows tend to fall into traps of smugness, anger or

Possibly the best political comedy show since the departure of Jon Stewart. Where these shows tend to fall into traps of smugness, anger or condescension, Minhaj manages to ooze empathy and warmth, while still hitting the hard points.
The format isn't miles away from Last Week Tonight, focusing on a single topic. Hasan has less production value than his HBO counterpart, with little graphics and no desk, so the show has the air of a stand-up routine. Love it. Excited to see more.

…

Expand

Very nice show. Appealing and covering topics more in depth. Hasan makes sure the topic is brought up in a very understandable way

To fully get what's going on with the show, check Tablet magazine's new article on the women's movement, and Bill Binney's youtube videos on

To fully get what's going on with the show, check Tablet magazine's new article on the women's movement, and Bill Binney's youtube videos on Russiagate- adds to the comedy.

…

Expand

Yet another actor to throw a hat into the already overcrowded political talk show arena. No depth to the show or any ounce of political

Yet another actor to throw a hat into the already overcrowded political talk show arena. No depth to the show or any ounce of political insight gleamed here. Just awful and not funny to anyone other than his family or friends.

…

Expand