Network:

Netflix

Series Premiere Date:

Dec 2, 2016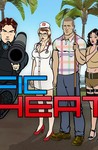 Summary:

The animated comedy created by Rob Sitch, Santo Cilauro, and Tom Gleisner focuses on an elite undercover police investigative unit working on the Gold Coast of Australia.

Genre(s):

Comedy

,

Animation
Season 1 premiere date:

Dec 2, 2016
Pacific Heat isn't in the same league as "Archer," but it has enough laughs and potential to get there.

Pacific Heat refuses to give its characters any breathing room, instead overstuffing each episode with an overabundance of zingers and ultimately pointless gags.

It's not anywhere close to what's needed to make this kind of humor work, and just one more reason you shouldn't be wasting your time on this wannabe when the real thing is one click away.

Pacific Heat feels hollowed out and devoid of even the slightest measure of personality. Even the animation design feels completely apathetic and bare-bones, which might have been fine if the writing had elicited any emotion beyond boredom and one or two blips of offense.

It's visually unpleasant. The jokes make up in repetition what they lack in elegance or wit. And the dialogue doesn't just flirt with racism: Occasionally, it takes racism to bed and makes sweet, discomfiting love to it.
It is a good mindless comedy show. People that are being negative are not wanting to watch mindless comedy. No it does not have a real plot.

It is a good mindless comedy show. People that are being negative are not wanting to watch mindless comedy. No it does not have a real plot. It is a bumbling special police group on cases. Don't watch for serious story or depth. It is just to unwind and laugh. Slapstick comedy and in that respect it delivers very well.

…

Expand

Other reviewers here are absolutely correct, I don't think the writers had any dreams of winning an Oscar but this show is hilarious. If

Other reviewers here are absolutely correct, I don't think the writers had any dreams of winning an Oscar but this show is hilarious. If you're looking for some slapstick comedy and if you like shows like Archer, BoJack etc, you will definitely like this show. The graphics could be better.

…

Expand

I enjoyed the pacing of the characters speaking, sometimes hard to keep up but it was just different and I enjoyed that. There is no plot but

I enjoyed the pacing of the characters speaking, sometimes hard to keep up but it was just different and I enjoyed that. There is no plot but I'm sure that was purposeful. I personally liked the jokes. Also I'm curious as to how people would see this as racist haha. Like, I really didn't even notice the race of the main characters and I (as a minority) don't really care about which person of which race was dumb. Or how much representation or whatever is there. It was just a fun show, trying to actively look for things like this that's going to offend you is just not a good attitude. You don't have to like the show but to say it's racist is a bit of a stretch.

…

Expand

Production quality is poor. Even in HD the characters and backgrounds are hazy. Here's a sample of the dialogue:

"lock and load" "Yep,Production quality is poor. Even in HD the characters and backgrounds are hazy. Here's a sample of the dialogue:

"lock and load"

"Yep, just remind what lock and load is again?"

"arm our weapons"

"ssssh"'

"Alright. You're the one who wanted us to lock and load"

…

Expand

I wanted to like this show going into it, but the characters are unmemorable, the voice acting is sub-par, and the comedic delivery is weak at

I wanted to like this show going into it, but the characters are unmemorable, the voice acting is sub-par, and the comedic delivery is weak at best. I did give it at least a one because it cured my insomnia.

…

Expand

The animation has an anime-esque aesthetic that looks like a fine arts college student's project. I'm all for satirical ethnic jokes but this

The animation has an anime-esque aesthetic that looks like a fine arts college student's project. I'm all for satirical ethnic jokes but this show just seems racist. The main characters consist of your douchey wannabe wise cracking agent complete with nineties hair cut and the push over blonde who is supposed to be the smart one. The other two have darker complexions and only speak when the writers want to remind us of how dumb and inept they are in an attempt to be funny but the jokes always seem to miss the mark.

A cast of U likeable characters, poor animation style, and bad writing make this show very hard to be enjoyed by a broad audience. Not to mention another show from FX that seems to share uncanny similarities... I would have given this show a zero but because some effort was given to make it I think that would be unfair (poor taste can't be helped). Also, I think some people would enjoy it, so despite the horrible reviews from horrible wannabe critics like me, give it a shot and see for yourself.

Another review pointed out how all negative reviews are from folks who don't enjoy or don't know how to enjoy mindlessly funny humor. I am all for dumb humor... This show is simply, for me, a very hard pill to swallow.

…

Expand

LOL this is Netflix trying to make their own "Archer", and they're failing at it, miserably. Similar art style, similar halfwit characters,

LOL this is Netflix trying to make their own "Archer", and they're failing at it, miserably. Similar art style, similar halfwit characters, similar cocky nature to some of these halfwits. All it took was me seeing the thumbnail to realize this was a wannabe Archer, and after watching it, it becomes more apparent.

…

Expand