Network:

Netflix

Series Premiere Date:

Jul 21, 2017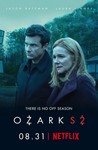 Summary:

Marty (Jason Bateman) and Wendy Byrde (Laura Linney) must juggle family life and dealing with the cartel's attorney Helen Pierce (Janet McTeer), as well as the Snells and Langmore Ruth (Julia Garner) in the second season of the crime drama created by Bill Dubuque.

Genre(s):

Drama
Season 2 premiere date:

Aug 31, 2018

Episode Length:

60
Please enter your birth date to watch this video:
You are not allowed to view this material at this time.
Just about all the choices are bad in this season of Ozark, making this season your best Labor Day weekend binge.

The show's writing is sharp and smart; its acting is clever and curt. Toss in that casino wild card and you've got a season that's just as remarkable as the first.

The echoes of "Breaking Bad" have grown louder in Ozark...While by no means a great show, the intense second season cements its status as an eminently binge-worthy one.

Season 2 lacks urgency beside the basic danger of the Byrdes' continuing their work in order to escape it, and glimpses inside Marty and Wendy's moral outlooks aren't compelling enough to make up for the lack of action.

Ozark Season 2 isn't great, but it is Good. Netflix's engaging, popular series has some issues it needs to resolve.

The show's second season provides little thrill of discovery, no amplification of what themes it possesses, and barely any real movement outside the hermetic world the Byrdes share.

The second season of Ozark, however, is a 10-episode slog of grinding narrative gears, ominous pronouncements about consequences, affectless violence and a monochromatic aesthetic that left me giggling at its miserable pretensions.
I can't believe the scores critics are giving this. Its a well made show and full of suspense. I love it

Season 1 was amazing but Season 2 is even better. This is a great show and I want more.

Loved it. Very edgy, engaging and I love the whole cast and their stories. 9/10

In the right mood. Scenes, music, colours - as in S01 - perfect. Acting - first class, just huuuge respect - especially Laura Linney, such

In the right mood. Scenes, music, colours - as in S01 - perfect. Acting - first class, just huuuge respect - especially Laura Linney, such incredibly goood actress. (also applause to Julia Garner for acting). It lost something in the plot but it is still very good, original show, worth every minute spent watching it. Very recommended!

…

Expand

The second season of Ozark starts out strong. It continues on with the intriguing storylines it set up last season for the first six episodes,

The second season of Ozark starts out strong. It continues on with the intriguing storylines it set up last season for the first six episodes, but as the show chugs along into the second half of the season it becomes clear that the writers weren't exactly sure how to drag this season's storylines out to 10 episodes, and the pacing and entertainment level of the show suffer as a result. Frankly, it gets a bit boring in the final few episodes of the season. However, the characters are all still engaging, and the finale did set up a third season that will get me to come back for more...but I am a little worried about how much longer this show will remain a "must-watch".

…

Expand

This review contains spoilers

, click expand to view

. There are countless moments in Ozark that don't make sense.

In the first season, they were dealing heroin hidden in Holy Bibles on the river through a fake church they developed which had real Christian followers standing around while it was all going on... At that point, I realised this show wasn't anywhere near the quality of Breaking Bad.

The second season didn't jump shark that much, but there was a moment that frustrated me more because it was so idiotic.

Wyatt is an okay character. I like Ruth. But the whole Langmore story line gets a little annoying after a while. I don't care if Wyatt goes to college... and Cade is painted too redneck. He's a cliche.

Marty is pretty weak. I don't think Bateman is good in dramatic roles. He's a very blank emotionless performer... There's a moment where he cries - and it's moving because he's been so blank since the first episodes - but it's not enough. His character wouldn't be that emotionally repressed. His performance is too minimalist for the rest of the cast.

Wendy is pretty good as the spooky Walter White type character, but she's not great.

I like Helen.

The Byrde daughter - I forget her name - is incredibly annoying and stupid.

The show is okay... I just feel like I've seen it a bunch of times before. I'd rather watch it without the cartel and the FBI. I'm tired of people writing sincere stories about stuff they've never experienced, without bothering to do any actual research.

Piles of fictional money don't impress me.

…

Expand

Stupid, boring show. The thing that bothers me the most is that it could have been good. It was supposed to be the new Breaking Bad. Instead,

Stupid, boring show. The thing that bothers me the most is that it could have been good. It was supposed to be the new Breaking Bad. Instead, it's just bad.

…

Expand