Network:

Starz

Series Premiere Date:

Aug 9, 2014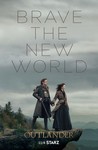 Starring:

Graham McTavish

,

James Fleet

,

Prentis Hancock

Summary:

Executive produced by Ronald D. Moore, married World War II nurse Claire Randall (Caitriona Balfe) time travels to 1743 century Scotland, where she meets Jamie Fraser (Sam Heughan) in this adaptation of the Outlander book series by Diana Gabaldon.

Genre(s):

Drama

,

Action & Adventure

,

Fantasy

,

Science Fiction
Season 1 premiere date:

Aug 9, 2014

Episode Length:

60
Please enter your birth date to watch this video:
You are not allowed to view this material at this time.
Outlander succeeds admirably, and partly that's because it follows the bent of both of its creators: It refuses to sit comfortably in any genre.

It has the look and feel of a sweeping "Game of Thrones" kind of epic filled with romance, intrigue and violence.

The show is wonderfully conceived and executed (if a little pokey pace-wise).

Some episodes chug along faster than others, but the stellar production values render even the slower-paced installments worthwhile viewing.

There is very little urgency in the storytelling--layers of voiceover bits don't help, even--and therefore Outlander can hardly be described as compelling. In many ways, this is a story well and thoroughly told but with almost none of the smart pacing of similarly dense fictions like Game of Thrones. And yet the world created in Outlander is not without interest.

Outlander is beautifully shot throughout, which somewhat makes up for some of the early tedium. It may not ever rise to the level of enthralling. But by the second episode, the story at hand is flexing a firmer grip.

The resulting series is a bit of a snooze--handsome, yes, but about as dramatically compelling as the cover of a Harlequin Romance, and too flaccid to make hearts go pitter-pat.
Ron Moore, the writers, the cast produce magic when blended with Diana Gabaldon's detailed historical romance series. The care taken with

Ron Moore, the writers, the cast produce magic when blended with Diana Gabaldon's detailed historical romance series. The care taken with detail brings the story to life with the amazing acting skills of Sam, Cait and Tobias. I couldn't be happier! While I have been a dedicated reader of this series for almost 20 years with visions in my head of the settings and characters, I've been excited to see everyone come to life in the adaptation. I'll never re-read the books now without seeing Sam as Jamie, Cait as Claire and the stunning portrail of Black Jack Randall by Tobias.

…

Expand

I absolutely love this outlander show. I' m only sad that only 2 more episodes are left. I never eat the books outlander is based on but now

I absolutely love this outlander show. I' m only sad that only 2 more episodes are left. I never eat the books outlander is based on but now that I love this show I am earring the first book. Just a note. This us the only show I am watching on tv of paid channels. Everything else is too violent.

…

Expand

The Starz Channel has not been notable for very high production values in its televised series shows. Things have taken a major turn for the

The Starz Channel has not been notable for very high production values in its televised series shows. Things have taken a major turn for the better. Extremely high production values, good writing, and excellent actors makes this "must see" TV. A touch of science fiction, lots of Scottish history, and lots and lots of romance makes this a women's show that men will enjoy too.

My wife has read every one of the "Outlander" books and she approached this show with an extraordinary degree of suspicion, expecting a cheesy cartoon of the books she so enjoys. She is now a believer in this show and recommends it to all of Gabaldon's fans and to everyone else too.

…

Expand

I think this series is well done. It can not be compared to other programs. I read the books years ago when they were first published and

I think this series is well done. It can not be compared to other programs. I read the books years ago when they were first published and key events have been represented well and do justice to the story while bringing in artistic changes to move the story along. I like the voice over. The nudity
Is not needed to convey the story. I like some historic event that have been added and not part of the original story. Over all well done

…

Expand

The Starzs series could have done without the graphic violence in this episode. Jamie's whipping was handled well in the previous episodes. It

The Starzs series could have done without the graphic violence in this episode. Jamie's whipping was handled well in the previous episodes. It was pivotal to the novel, but to subject the viewers to the prolonged violence again, just took away from a brilliant story. Diana Gabaldon should be more insistent over how the producers interpret her books.

…

Expand

Although I love Diana's writing and devoured the whole outlander series, I cannot watch it on T.V because of who they cast as Jamie. Jamie is

Although I love Diana's writing and devoured the whole outlander series, I cannot watch it on T.V because of who they cast as Jamie. Jamie is EVERYTHING to the story and while I think they cast a fine actor in Sam Heugan, I do not think he comes close to being able to sustain the kind of charisma, strength, gregariousness, intensity and masculinity that the character is imbibed with; that we as the reader have been knocked over the head with!. I'm sure they had a battle in casting but really....the part for Jamie is a total shame. The actor cast does not have exude the 'wise beyond his years' nor the command of a room. The books go on and on and on and on.....about Jamie's character and this actor doesn't have it. That brings me to your site, if Jamie doesn't have the content, surely they could have cast someone with the height and breadth of the man they describe!! Surely they could have invested a bit into colouring his hair!!! I mean if I read ONE more line about the various tones of red and the shocking swatch atop his tall standing crown! The Beauty department has the ability to, at least, give him that to work with since he appears only a bit taller than "Old Claire". I don't really mind "Old Claire" although I find her voice a bit grating....I would watch her but I think you have presented us with SO many better physical options for 'Jamie' that I am totally confused as to WHY on earth Diana Gabaldon would have allowed them to so miscast 'Jamie". So sad because some of the other cast is great and the Production Design is FANTASTIC as if the Wardrobe department. Period Drama is the most difficult and to then live up to this beloved series of books....well it was a tough task and it seems they have really tried by hiring some astute professionals. Too bad the most important element for the show, is for me, a deal breaker and an epic fail.

…

Expand

Any TV show that requires a sex scene within the first 25 minutes to draw in viewers is probably a bad TV show. The only way this show made it

Any TV show that requires a sex scene within the first 25 minutes to draw in viewers is probably a bad TV show. The only way this show made it to a second season is probably because it was ordered in wholesale. Sincerely speaking it's time Scottish accents include subtitles, because I struggled through a few episodes before it became pointless. Oh yes, and there's more horrifying sex scenes to spice up the drudgery of sitting through a few episodes of Outlander. Should be renamed Outsider because there's nothing that would save this show from being canceled.

…

Expand