Network:

Syfy

Series Premiere Date:

Dec 2, 2018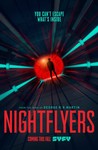 Summary:

Eight scientists and a telepath traveling on The Nightflyer space ship to make contact with alien life begin experiences strange and violent occurrences in this adaptation of George R.R. Martin's novella (which also was made into a 1987 film).

Genre(s):

Drama

,

Action & Adventure

,

Suspense
Season 1 premiere date:

Dec 2, 2018

Episode Length:

60
Decently cast, interestingly claustrophobic and boasting occasional tiny bursts of inspiration, Nightflyers isn't going to suddenly hook those broad Game of Thrones demos, but there's an audience out there that's always thirsty for hard sci-fi and this is for them.

Nightflyers, like YouTube Premium's "Origin," features a wholly impractical spaceship design, one that is expansive and minimalist, with long corridors and plenty of convenient places for something to hide. What starts intriguingly turns sillier the deeper you go.

There's a sense all of this has been done before, and showrunner Jeff Buhler doesn't quite know how to make it feel new again. It's a testament to the pulpy dramatics of the source material that Nightflyers remains enjoyable to watch despite these weaknesses.

Not scary enough to be good horror and too simple-minded to be grand sci-fi, Nightflyers is just another schlocky TV show pretending to be more than it is.

Unfortunately, the show never alchemizes these touchstones into a fresh, distinctive aesthetic. And when projects like this aren't capable of knocking you out with style, they'd better have vivid characters and a riveting story to fall back on, and that's not the case here, either.

A tediously generic haunted-house-in-space odyssey, one that Syfy is either (charitably) experimenting with or (more likely) rapidly exhausting by making all 10 episodes available simultaneously with its linear-TV debut.

The constant, clumsy back-and-forth story line is not [Buhler]'s only annoying affectation. He's also larded Nightflyer with references to other, better, works, from Star Trek to The Shining, probably intended in homage but really serving just to remind you how much better all of them were. And the abundant gore, no doubt a confused nod to Martin's original premise that horror and sci-fi can coexist in the same vehicle, serves no purpose at all. [Buhler] may think he's speaking in some advanced new artistic argot, but really, it's just a lot of outer-space jabberwocky.
If you take into account the time when the novel was released, the story is much better than many others of the genre, I watched it come if I

If you take into account the time when the novel was released, the story is much better than many others of the genre, I watched it come if I was at that time and I enjoyed it too much. Also, who is a fan of game of thrones will see some similarities between the two series that are not mere coincidences. highly recommended. despite some minor slips.

…

Expand

*No Spoilers*

I'm surprised this show is 'mixed' with critics, it's great! I'm taking it as further evidence of how useless professional*No Spoilers*

I'm surprised this show is 'mixed' with critics, it's great! I'm taking it as further evidence of how useless professional reviews can be sometimes. Perhaps some saw that it was based on the George R.R. Martin book, and came looking for a "Game of Thrones In Space". I like Game of Thrones, but this an entirely different animal. Personally I think a "Game of Thrones In Space" would be something closer to the Dune franchise, which is completely impossible with the set-up of this show, as it mainly revolves around a single spaceship's mission.

Personally as a fan of Event Horizon (flim), Altered Carbon (TV), The Expanse (TV) and 2001 (film), I've found the show to be excellent, and a welcome indication that quality Sci-Fi Horror for adult audiences still matters to some show producers. All I can say is watch it! If you don't like the first five minutes of the first episode, it's probably not for you.

It's definitely doesn't hold your hand for explaining everything quickly (or at all), which may be a contributing factor to some of the negative reviews. Personally I'm a big fan of it's style, which reminded me of the way Altered Carbon didn't explain every term or concept used by the characters, and it was left more to the viewer to pay attention and learn about their world in a more organic way. I've also seen some negative reviews slamming "plot holes" or "uneducated writing", whilst citing events that are explained by the end of season 1. Personally I'm not sure such reviews should be taken seriously, when their patience is clearly too short to even finish the series before rating it badly =|

Fair warning some scenes in the series can be quite graphic, so if you're easily 'triggered' or don't like body horror elements, maybe steer clear...

…

Expand

I found it to be a lot of fun! Spider Bot rules! The first 3 episodes are just the beginning -- once you get deeper into the series the

I found it to be a lot of fun! Spider Bot rules! The first 3 episodes are just the beginning -- once you get deeper into the series the concepts and characters really take off. The show is compelling and there's some of the most mind bending effects at play. Don't be discouraged by whiny Sci-Fi purists who don't know how to enjoy themselves! Give it a shot (at least through first 5 eps) and then decide for yourself!

…

Expand

Based on the George R.R. Martin novella, the sci-fi/horror television show Nightflyers is about the crew of a spaceship seeking out a

Based on the George R.R. Martin novella, the sci-fi/horror television show Nightflyers is about the crew of a spaceship seeking out a mysterious alien race.

The show really nails the horror aspect. It manages to juggle several several horror elements rather than having one singular threat. Things get real freaky and I love it. Also liked just the basic design of the spaceship The Nightflyer. Yeah, it doesn't do a whole lot new design-wise, but it looks good.

However, the show fails to completely stick the landing when it comes to the plot. There are interesting character ideas, mind you, but things never quite jive. Characters make weird decisions, and there are a couple moments where they don't react like real people would. It's like the writers were more interested in creating individual scenes than setting them up naturally. The exhibition is also vague in parts.

The show is setting up for season two so don't expect some big questions to be answered yet.

Nightflyers isn't perfect, but I was entertained enough to want to see where this goes.

…

Expand

This review contains spoilers

, click expand to view

. This could've been a great sci-fi thriller. But all those unnecessary and sometimes stupid sub-plots is what killed it for me. They had one great premise - dangerous and unstable psyker is the only hope for humanity, this alone was enough for this show.
Instead we got ship full of crazy lunatics that (for some reason) was considered good, reliable choices for THE most important mission in human history, and we got even more crazy AI controling the ship without any backup/failsafe system. Yup, sounds logical to me.
And don't get me started on aliens using dead relatives to communicate.
TL;DR Great idea buried under bad writing.

…

Expand

How did they fit so many stupid people on that ship? Budget looks good. Actors are doing an ok job, but this crap is so unbelievable it's

How did they fit so many stupid people on that ship? Budget looks good. Actors are doing an ok job, but this crap is so unbelievable it's impossible to watch.

…

Expand

This review contains spoilers

, click expand to view

. This is one of the most unlogic and most foreseeable "horror" series I watched until now. Well to be honest, almost all horror movies are artificial, but this is a especially construed series, where - seriously - they embarked a psychopathic telepath onboard their billion $ space station who is able to manipulate feelings and thinkings of the crew members at will. Nonetheless, they are going on a trip to obviously meet aliens and make the first contact with probably that psychopath (I couldn't go on watching this cra* more than 2 episodes, so I am not sure what they finally want to do as nothing is getting explained whatsoever).

In every episode, you can see **** happening to the crew, like a crew member commiting suicide due to influence to that telepath, and know what? Everything goes on just as usual as if that would be the most usual thing in the world. They not even think of getting rid of him and apperently the crew doctor is defending this special "kind" as if she was his mother. The whole thing becomes even more unlogical, as the complete technological gadgets and stuff are apperently made so "safe" to be sure that a crew member is being killed when using them (example: A crew member who is relaxing in an oxigen tank surrounded by water and an oxigen mask is suffocating after a "failure" of oxygen, and is not able to open the tank from the inside - yeah of course ;) )

This complete unlogical stuff is obviously made up to keep the suspension up but it just gets annoying because its so thrown in your face and obvious **** that it hurts. I recommend reading a book about cooking radishes or couscous because that is more exciting after all...

…

Expand