Network:

NBC

Series Premiere Date:

Sep 25, 2018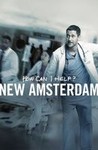 Summary:

New medical director Dr. Max Goodwin (Ryan Eggold) seeks to return the hospital to its former glory with a staff that includes Dr. Hana Sharpe (Freema Agyeman), ER doctor Dr. Laura Bloom (Janet Montgomery), attending cardiac surgeon Dr. Floyd Pearson (Jocko Sims), attending child

New medical director Dr. Max Goodwin (Ryan Eggold) seeks to return the hospital to its former glory with a staff that includes Dr. Hana Sharpe (Freema Agyeman), ER doctor Dr. Laura Bloom (Janet Montgomery), attending cardiac surgeon Dr. Floyd Pearson (Jocko Sims), attending child psychiatrist Dr. Iggy Frome (Tyler Labin), and the oldest doctor on staff Dr. Anil Kapoor (Anupam Kher) in this medical drama inspired by Bellevue Hospital.

…

Expand

Genre(s):

Drama
Season 1 premiere date:

Sep 25, 2018

Episode Length:

60
It is as baldly manipulative and corny as heck--the pilot ends with a Coldplay song--and even a little ridiculous. But the actors sell it, and the fact that the action can seem so unlikely oddly just makes it more compelling.

New Amsterdam will satisfy fans of the genre. It's somewhat predictable, with a moderate dose of prime-time soapiness. But with Eggold's strong performance and an interesting supporting cast, this show could be the right prescription to attract a following.

New Amsterdam tends to rather tidily resolve all of its patient crises in these first two episodes. It also can get treacly at times, particularly when Coldplay's "Fix You" hovers over the closing minutes of the premiere hour. The long-term diagnosis is iffy at best, with the main characters and their cases coming off as not that special or interesting.

New Amsterdam...is not based on one show but every medical drama in TV history going right back to 1954's Medic.

It doesn't do much good having a hospital in which basically every permutation of medical case is possible if every case feels like a pale imitation of something that worked on another medical show.

Heartfelt, well-meaning and dull. ... Mr. Eggold has an easy charisma, but ... It all feels too smooth and forgettable.

The best medical dramas have something going for them besides the blood and scrubs. This one is simply dead on arrival.
New Amsterdam is a great tv show.
There is a great story that I can relate to socially, medically about everyday life.
There is no profanityNew Amsterdam is a great tv show.
There is a great story that I can relate to socially, medically about everyday life.
There is no profanity and nudity and I think this is a refreshing change.
Please keep this show.

…

Expand

This show reminds me a lot of Grey's Anatomy. However, it has gritty feel to it that makes it feel more real. The producers and directors are

This show reminds me a lot of Grey's Anatomy. However, it has gritty feel to it that makes it feel more real. The producers and directors are choosing topics that need to have light shed on them: racism, employing women of color, police brutality, putting people's needs above greed and profit, and nontraditional family structures. It even sheds light on the deteriorating effects of climate change and covers recent health scares like Ebola. In addition to all the topics, the cast is amazing. They have good chemistry with each other and really sell their roles and positions on matters.

Based on the reviews I've read it appears the super conservative and blue lives matter people don't appreciate the show, but more shows like this need to be broadcast to educate and remove their narrow minded views from our diverse and culturally growing community.

…

Expand

"How can I help?" is a phrase that more people should use in life. Ryan Eggold does a great job as the new medical director, and I love that

"How can I help?" is a phrase that more people should use in life. Ryan Eggold does a great job as the new medical director, and I love that his character genuinely wants to help and make a difference. I look forward to seeing how he and the rest of the cast do that each week.

…

Expand

New Amsterdam is a beautiful show full of hope and potential to be a great medical drama! The cast and characters are all great and very like

New Amsterdam is a beautiful show full of hope and potential to be a great medical drama! The cast and characters are all great and very like able. The main phrase of the show is "How can I help you?" which is a question we should ask everyone. While many sad events are going on many end happy and give you hope that no matter how big the problem is there is always a solution. All the story lines going on in the hospital are all interesting and keep you on the edge of your seat! So if you like medical dramas give New Amsterdam a chance.

…

Expand

A group of us like New Amsterdam but we are fed up with the music played when characters are talking. Enough with the drums, horns etc. when

A group of us like New Amsterdam but we are fed up with the music played when characters are talking. Enough with the drums, horns etc. when there is dialogue going on. It is totally pointless and disturbing. After watching last episode we all decided, not to watch the show anymore as the music is pointless and you can't hear the characters speaking. ENOUGH!!!

…

Expand

This show is liberal propaganda being shoved down our throats. From support of Black Lives Matters (thugs), to "how could anyone live here in

This show is liberal propaganda being shoved down our throats. From support of Black Lives Matters (thugs), to "how could anyone live here in the US", to gay men kissing. It sets up the conservative boogeyman to be beaten down by post-modern political correctness. Too many new shows fail because liberal "enlightened" writers try to force-feed liberal politics into them because we, the unwashed masses need to be indoctrinated on the current liberal fads. Stay away from this dog. Same thing happened with Designated Survivor. We want good stories, not democrat propaganda.

…

Expand

I enjoyed this show right up to the point when their bigoted producers decided to portray all cops as dumb white minority child hunters. The

I enjoyed this show right up to the point when their bigoted producers decided to portray all cops as dumb white minority child hunters. The portrayal was so bigoted and twisted that I could barely finish the episode. I had hope some kind of balance would be restored but no such luck. Bigotry is bigotry. There is not an acceptable form or an acceptable group to be hated. Hollywood has learned that it can profit from being openly bigoted towards Cops, Jews, Christian, whites and men. Their greed is so deep that they will openly promote hate and exploit women and the gay community to make a buck. The worst part is that they have customers who happily eat this stuff up.

…

Expand